This ultrasound connects to an iPhone to help catch COVID-19
The Butterfly iQ, a portable ultrasound machine that plugs into personal electronics, is facing a test in COVID-19.
Buttons, knobs, the spaces between the buttons and knobs, the ultrasound probe, the screen, the arm lifting the screen, the wheels — there are so many places on a portable ultrasound where the novel coronavirus could hide.
The machine, commonly used by emergency medicine doctors, is a rolling transmission vector for SARS-CoV-2.
But point-of-care ultrasounds (POCUS) are an incredibly useful tool for diagnosing COVID-19. By quickly looking inside of a patient's lungs, doctors can spot potential signs of infection, helping them in their crucial diagnosis. Whether or not a patient has COVID-19 can determine where they go in the hospital — and what safety measures need to be taken.
Nosocomial infections — those that originate inside hospitals — could potentially crush hospitals already suffering from a lack of personal protective equipment (PPE). And given how bad the coronavirus is for people with preexisting conditions, they potentially pose an even greater risk than other sources of infection.
There are so many places on an ultrasound where the coronavirus could hide.
Anything that can help reach a correct diagnosis quickly is important on the front lines. But those carts could carry the virus down the hall, to another room, to more people with the potential to be exposed. And preventing that from happening can use up a resource as precious as PPE: time.
"The second that cart enters the room (with the coronavirus), it requires a full decontamination," says Ben Boswell, an emergency medicine doctor at University Hospitals Cleveland Medical Center.
"You've essentially lost that ultrasound machine for a considerable amount of time while environmental services decontaminates it."
This poses a difficult question. Do you attempt to avoid using ultrasound on COVID-19 patients at all, forgoing a valuable diagnostic tool, to help keep the machines ready for others?
A machine called the Butterfly iQ may provide an answer.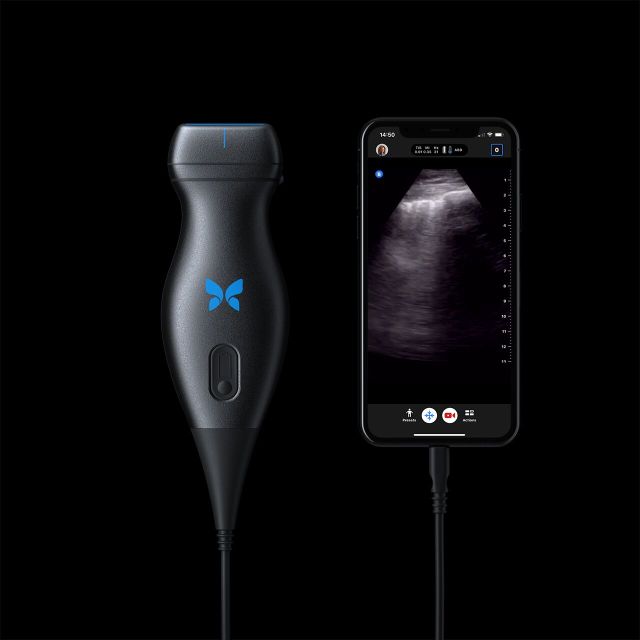 A Portable Ultrasound Machine
Butterfly iQ ultrasound machines differ from cart-based ones in their size, versatility, and ease of use. The handheld ultrasound probe plugs into a personal device, like a phone or tablet, and essentially runs like an app. The device has drawbacks: it is not capable of doing everything a large, traditional ultrasound machine can, and its image quality can be lower. It would not replace a full-sized ultrasound machine for, say, an obstetric exam or echocardiogram.
But the Butterfly iQ provides multiple anti-infection benefits, says Mike Stone, the director of education for Butterfly Network and an emergency physician at Legacy Emanuel Medical Center in Portland.
By using only one generalized probe and small, handheld devices, Butterfly iQ is much easier to carry around and clean — you could even slide it into a sleeve (like those used for thermometers) and just dispose of the cover when you've finished an examination.
A portable ultrasound machine can also cut down on the need for a stethoscope, which require doctors to get extremely close to patients and can potentially transmit the virus, too.
Beyond the Hospital
A small, convenient, and cost-effective portable ultrasound machine — Butterfly iQ costs just $2,000, orders of magnitude less than traditional machines — opens up ultrasound for uses beyond the hospital, too.
Emanuele Pivetta, an emergency department doctor in Turin's Città della Salute e della Scienza di Torino hospital, uses Butterfly iQ to aid in his COVID-19 diagnoses. He also uses it to assist patients who aren't even there.
The mission of Butterfly is to democratize medical imaging.
A nurse at Pivetta's hospital with COVID-19 used Butterfly iQ ultrasound images streamed back to the hospital for monitoring their condition from their own home. Since the lung is a relatively easy organ to ultrasound, Pivetta and Stone say, it could possibly be used as a monitoring device for telemedicine.
Beyond COVID-19, Boswell says he has had multiple instances on the sidelines of the Cleveland Browns (where he moonlights) when a Butterfly iQ ultrasound machine would have been useful. He also hopes to have the device on his next deployment with the Army, where it could be touted by medics for forward operating medical care.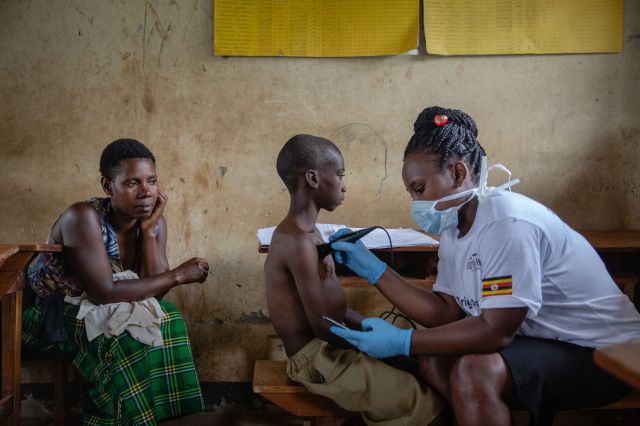 The end goal of Butterfly iQ, according to Stone, is to bring medical imaging to places without it, whether that's the sidelines, the battlefield, or developing countries. Even portable cart ultrasounds can be prohibitively expensive, at tens of thousands of dollars, in much of the world.
"The mission of Butterfly is to democratize medical imaging."