On any given day, we participate in relationships — with our friends, clients, colleagues, family members, and lovers. Some of these daily interactions now happen between humans and non-human intelligences like Siri and Alexa.
Though our interactions with them may seem simple, robots already play a part in the most important relationships of our lives. And as companion robots become more sophisticated, these relationships will become more complex.
Take BUDDY, for example, an advanced companion robot with an expressive face and gentle voice. He's affectionately referred to as a "him," not an "it," by those who've spent significant time in his presence.
BUDDY is currently in development under the lead of Rodolphe Hasselvander, CEO and founder of Blue Frog Robotics in Paris, France. It seems only natural that a robot as sweet and loving as BUDDY would come from the city of love.
More Than Just a Toy: BUDDY the Companion Robot
With human-like expressions, different feelings, and moods, BUDDY has the ability to carry on conversations with his human companions. Anyone can argue that BUDDY's programmed emotions aren't real, but no one can question the validity of the emotional response people have with their robot companions.
While BUDDY's design makes him a fun addition to any family, similar to a pet, his developers have set their sights on a nobler purpose for this faithful robot — elder care and companionship. And Hasselvander hopes that the companion robot will soon be well equipped for the job.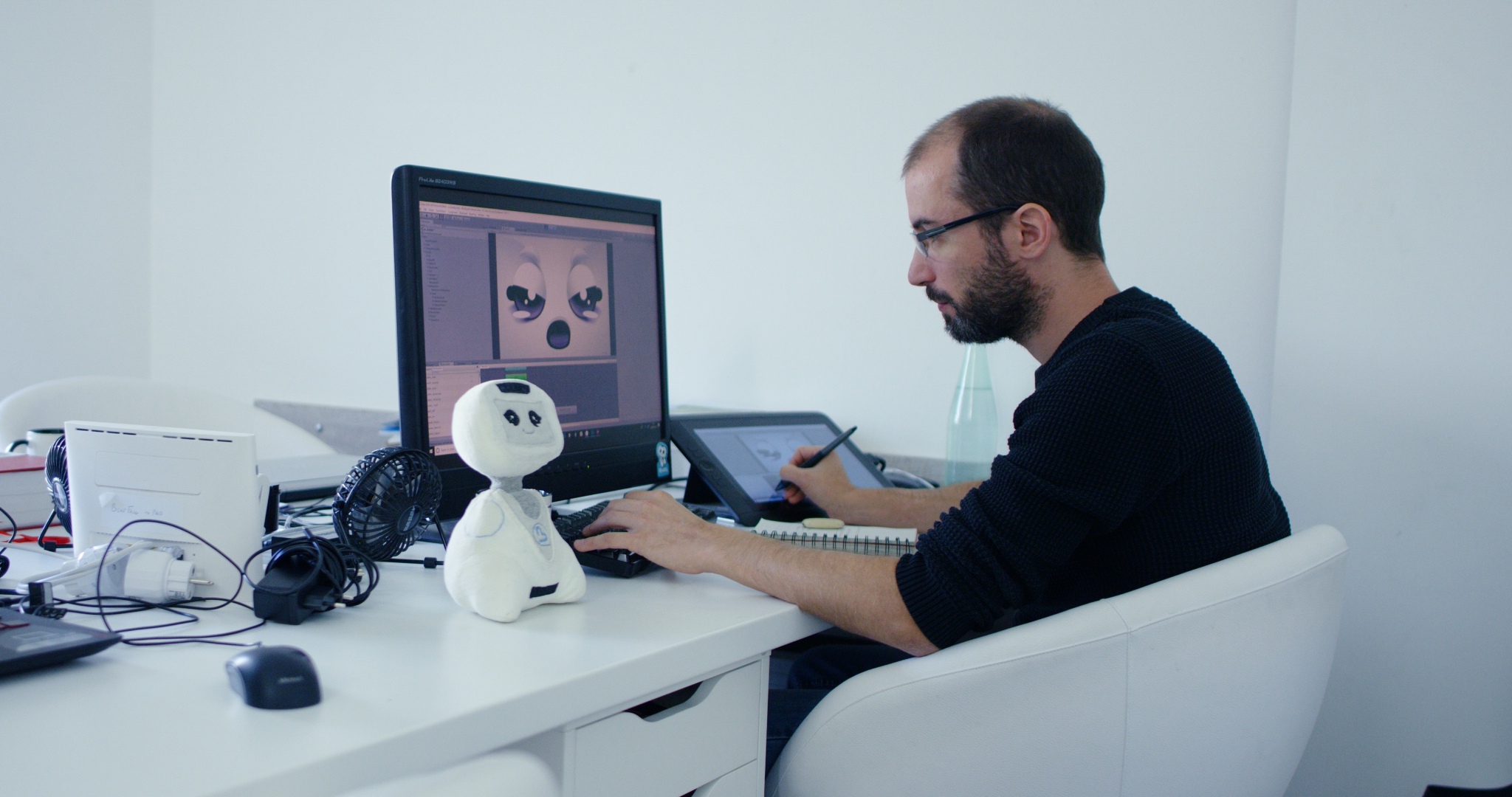 There are a few key factors that support society's need for better elder care resources. There are more elderly individuals than adults and children. People not only live longer, thanks to improved medicine and healthcare, but there are also fewer young people.
The worldwide average birth rate is fairly stable, but birth rates in specific areas around the world are dropping significantly. This is especially true in economically developed countries in Europe, Eastern Asia, and North America. As a result, these nations face unprecedented challenges in caring for their aging populations.
Additionally, generational living is no longer common. In this arrangement, aging parents could be easily cared for, looked after, and had no dire need for companionship outside the family unit.
As a result of education and career demands, grown children tend to move away from their parents. They might not live in the same town, state, or even country as their aging parents. With greater access to housing and economic stability, parents living with their children is no longer the modus operandi.
Children often can't be available to care for their elders and as a result, they're forced to look for alternatives, such as assisted living facilities, in-home nursing, and other aging services. For all of these reasons, access to elder care is in high demand, making it costly and difficult to find.
How BUDDY and Elder Care Robots Can Help
Living out their older years in the comfort of their own homes, known as aging in place, is preferable to many, compared to the option of moving into assisted living facilities. Companion robots might eventually make this possible for a greater number of elderly individuals.
When you talk to anyone about aging, one of the most commonly expressed fears is having to move away from home into an unfamiliar living arrangement. While this response is often given instinctively, there are some very convincing reasons why aging in place is actually better.
For starters, remaining in one's own home costs much less than moving into assisted living. And home is the most comfortable place to age. Individuals have privacy and are surrounded by everything that's familiar to them, including the objects within the home as well as places within the neighborhood.
Additionally, being surrounded by familiar places, people, and things helps slow age-related memory loss. It also helps the elderly stay better connected to their network of friends, neighbors, acquaintances, and nearby family members.
Ultimately, home is a place that represents the people who live there. Aging at home helps elderly individuals hold onto their identities, sense of purpose, and independence.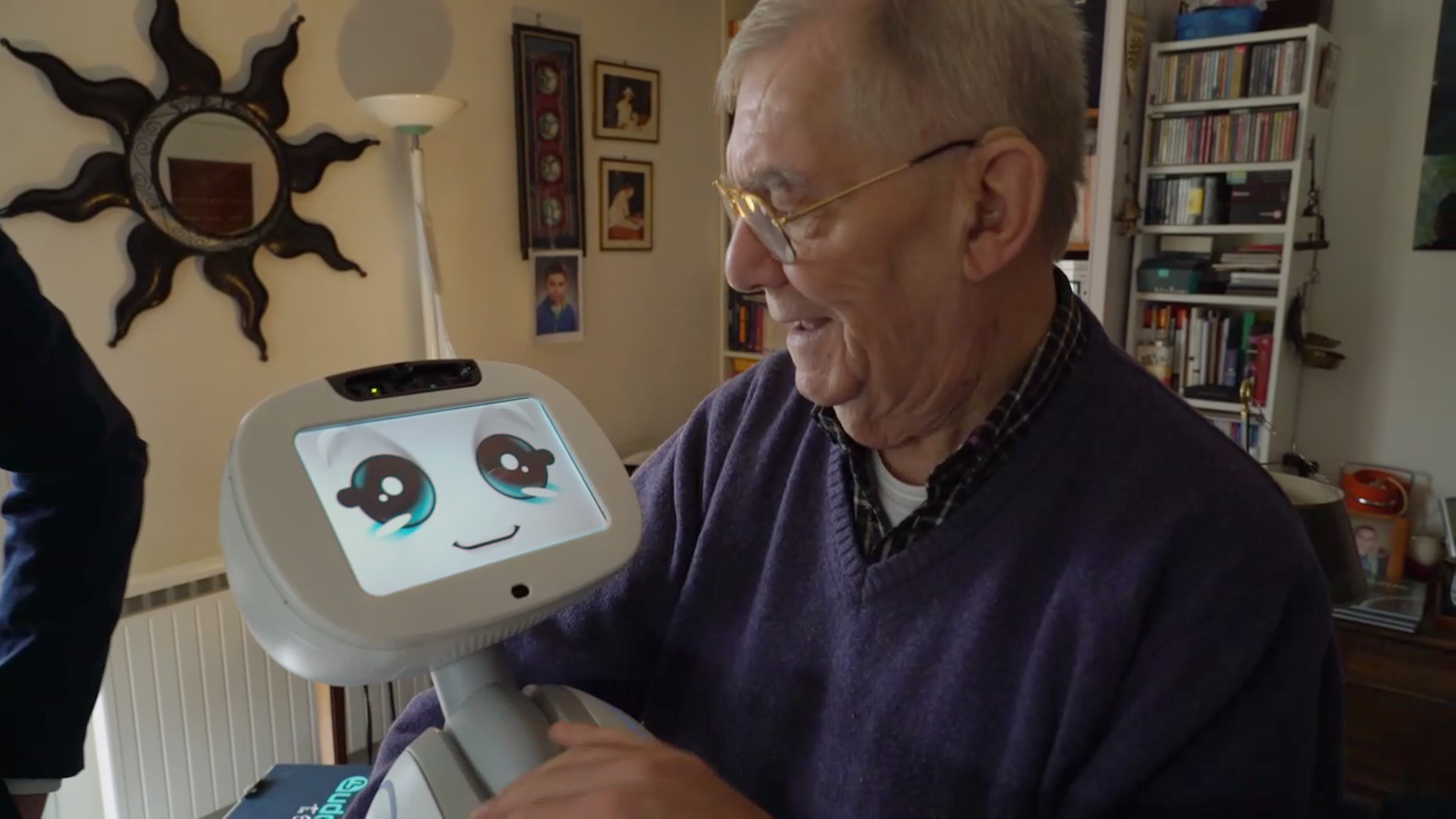 Without adequate assistance and care, however, aging in place can be dangerous and detrimental to a person's health. As an individual ages, certain challenges arise, such as mobility concerns, proper nutrition, potentially complicated medication administration schedules, and even the risk of isolation.
BUDDY, or a similar elder care robot, could one day act as an affordable, affable companion and elder care assistant, living in the homes of individuals who choose to happily age in place. Plus, BUDDY is already equipped to prevent elderly individuals from becoming isolated and lonely.
The emotional robot allows the owner to develop a friendship and have conversations. He is also a means of communicating with the outside world via streamlined video calls and messaging capabilities. This feature makes contacting friends and family simple, but also allows loved ones to check in on a family member's wellbeing from afar.
In the future, companion robots might go further than providing friendship with the addition of features designed to check on a family member's vital signs or help with the administration of medication.
For now, we can enjoy the companion robots that tell us jokes, answer questions, switch on the lights, and turn up the music for dancing. While BUDDY's still in development, you can always ask Siri to call your Nana more often.
Get Involved
Want to join Buddy's supporters and make this robot caretaker a reality? The company behind Buddy, Blue Frog Robotics, is offering investments opportunities.
"We have envisioned a better world for the future of home living, and that vision is Buddy. With your help, the robot we have built will disrupt the way we live and you can be at the heart of the next technological revolution." Rodolphe Hasselvander, CEO, Blue Frog Robotics
Learn more and show your support at bluefrogrobotics.com.