Starbucks is creating an EV "charger highway," from Seattle to Denver
The company is promising electric vehicle owners a near-full charge in about 40 minutes.
Starbucks is aiming to capitalize on the rising demand for electric vehicle infrastructure by installing fast chargers at up to 15 coffeehouses this summer, along a 1,350-mile route from Colorado to Washington.
The project, a pilot program with Volvo Cars, aims to build one DC charging station on each 100-mile segment of the western route.
Why install chargers at Starbucks? The coffeehouse chain is betting that it can score business from electric vehicle owners while they wait for their cars to charge — a process that can take a while, depending on the battery and strength of the charger.
But charging times at Starbucks locations could be cut to about 40 minutes through DC chargers, supplied by the American electric vehicle infrastructure company ChargePoint.
Starbucks and Volvo plan to analyze how electric vehicle owners use the stations in order to assess the viability of expanding the program elsewhere. It's not the first time Starbucks has experimented with using emerging technology to boost sales: in the 2000s, the company offered CD-burning and MP3 "filling" stations, and in 2011 it became one of the first major companies to offer mobile payments, a sector in which it remains a top player today.
More vehicles, more infrastructure
The electric vehicle market is growing rapidly, with international sales doubling from 2020 to 2021. The U.S. hopes to lead the market: in 2021, the Biden administration announced a target of having electric vehicles constitute 50% of new car sales in the U.S. by 2030.
The goal is ambitious — plug-in EVs today are only about 5% of new sales — but it may be within reach. A 2021 survey found that automotive executives predicted that an average of 52% of new cars sold in the U.S., China, and Japan will be electric by 2030.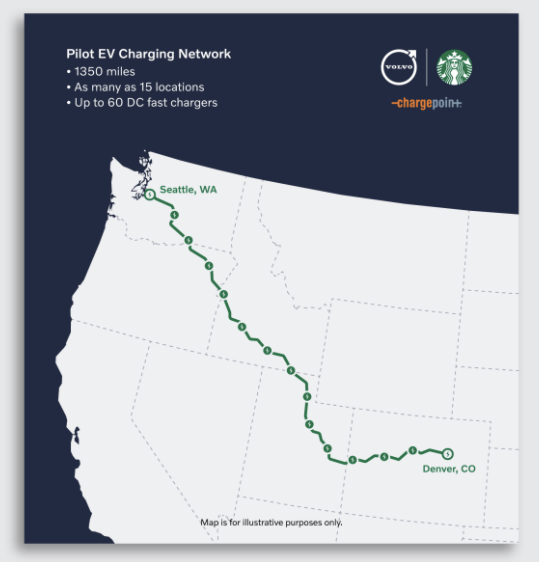 But supporting an electric fleet of that size in the U.S. will require better — and far more — power infrastructure.
Although the U.S. currently has more than 43,000 publicly accessible charging stations, the network is fragmented. Some parts of the country, especially rural areas, have zero or few charging stations, while existing stations often vary in quality, hookups, and payment method.
Boosting electric vehicle infrastructure in the U.S.
Better infrastructure could speed up the shift to electric vehicles in the U.S. A bipartisan infrastructure bill, enacted in November 2021, included $5 billion to help states build a national charging network of about 500,000 charging stations.
The stations are set to be part of the so-called ​​alternative fuel corridors that the U.S. hopes to build along interstates and highways across 49 states and Washington, D.C.
"China has been leading the race up to now, but this is about to change," President Joe Biden said in a speech in February. "Because America is building convenient, reliable, equitable national public charging networks. So wherever you live, charging an electric vehicle will be quick and easy."
But providing that "quick and easy" experience will require fast, high-quality chargers.
The 3 levels of electric charging stations
Electric vehicle chargers are divided into a three-level system, ranked by the speed of charging.
Level 1 chargers are the slowest, offering about 3 to 5 miles of range per hour of charging — but they can be plugged into a common 120-volt outlet.
Level 2 chargers are the most common type of public electric vehicle charger, requiring a 240-volt outlet and providing up to 80 miles of range per hour.
The fastest rank is Level 3, also called DC fast charging. These chargers, like Tesla's Supercharger, can give compatible vehicles up to 200 miles of range in just 15 minutes.
Which types of chargers will be built using funds from the infrastructure bill? States will likely favor Level 2 chargers because they're more affordable and therefore more could be built. Although Level 2 chargers aren't the fastest, building more of them — whether through government funds or projects like Starbucks' pilot program — could make driving electric vehicles a lot more convenient.
Sure, it won't be as convenient as fueling up at the pump. But with a stronger national charging network, electric vehicle owners could depend on having chargers within a reasonable distance, some conveniently located at places where they needed to go anyway: the grocery store or the coffee shop.
It's unclear whether the U.S. will hit the goal of having 50% of new vehicle sales being electric by 2030. But with rising gas prices, cheaper electric vehicles, and plans to build at least one charging station per 50 miles of interstate across the nation, the appeal of electric vehicles is only likely to rise.
We'd love to hear from you! If you have a comment about this article or if you have a tip for a future Freethink story, please email us at [email protected].