Coffee mug company builds high-tech box to keep vaccines cold
Ember is going from keeping coffee hot to medicine cold.
Smart coffee mug maker Ember is going from keeping your drink warm to keeping medicine cold.
The company's new product, the Ember Cube, is a refrigerated shipping container for products that require a cold chain.
Ember's been talking about expanding into cold chain technology since February 2021, when incoming consumer CEO Jim Rowan told TechCrunch about his plans to find new uses for Ember's temperature-control expertise.
"They have great IP, great design and great innovation, all around precise temperature control," Rowan told TechCrunch.
"Obviously that started with the temperature control mugs and flasks, but that IP lends itself to so many other application. For me, that golden thread of being able to use that in myriad of different industries and markets is really, really exciting. One of them, of course, is the cold chain, which has become a lot more important since the beginning of the pandemic."
The Ember Cube has already been used in a pilot rollout, FastCompany's Mark Wilson reported, with plans for a second-gen iteration to begin cold chain testing in the spring, and hopefully scaling up fast if it proves successful.
What is a "cold chain?" Some products, including medicines — most notably, the mRNA-based COVID-19 vaccines —need to be kept within a narrow temperature window while being shipped around the world.
When that requires refrigeration or freezing, the temperature-controlled supply chain is called a cold chain. Maintaining medicines' proper temperature is crucial. If exposed to warm conditions for too long, it may become worthless, going from life-saving to expensive waste.
A cold chain is a temperature-controlled supply chain for keeping products cold or frozen while shipping them.
A cold chain adds another layer of complexity to the already complex supply chains which wrap the world. By incorporating new technology and designs learned in their keep-your-coffee-hot business — tech Ember claims to be the first-of-its-kind, according to FierceBiotech — the company hopes to make the cold chain more reliable and sustainable.
What's in the cube? The Ember Cube is covered in expanded polypropylene foam — the squishy stuff in exercise rollers, Wilson noted. The foam helps to protect the contents from the bangs and drops it's bound to suffer en route.
The inner box is vacuum-insulated, and also filled with a cold material that changes from a gel to a liquid as it warms up, absorbing the heat energy and keeping whatever is being shipped, surrounded by the gel, from getting warm.
Running the Ember Cube is a suite of sensors and software similar to what Ember uses in their smart mugs, FastCo's Wilson reports. It also includes cellular radio and GPS, so that the shipper can not only know where the box is, but also keep tabs on its temperature and humidity in real-time.
Digital ink labels get the Ember Cube to where it's going and back again, so that it can be reused, reducing waste.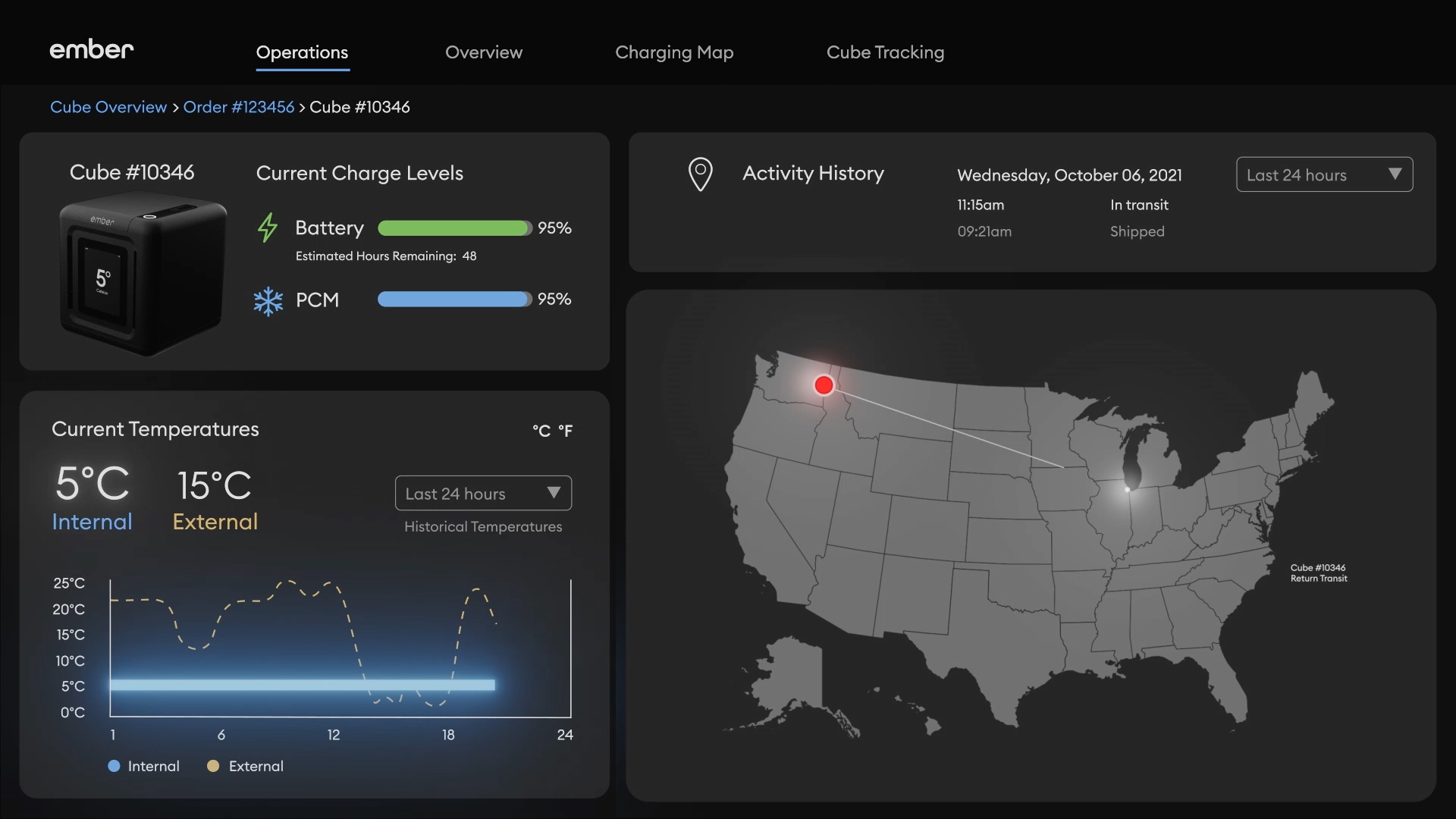 The specs: While maintaining the weight of freezer-pack loaded cardboard boxes, Ember's box can currently keep things at 41 F for 72 hours, according to Wilson, and should last for about a decade.
Ember and its partner company Cardinal Health estimate that the reusable containers could keep 7 million pounds of shipping-related waste out of landfills a year once it scales.
According to FastCo, Cardinal Health is one of the healthcare industry's largest distributors, with major clients like CVS. Cardinal's bet is not only that more therapeutics will require a cold chain, but that temperature-controlled shipping will become ever more important in a warming world.
"The environment is getting hotter and hotter as well, and [we need] to ensure we can handle these products the best for patients at all time," Heidi Hunter, the president of Cardinal Healthcare Specialty Solutions, told Wilson.
Getting colder: The Ember Cube is not yet being deployed at full scale, although Cardinal expects to be using it more regularly this year after a tryout this spring.
Ember Cube can hold temperatures appropriate for the refrigerated Moderna and J&J vaccines, but cannot yet contain Pfizer's frigid formulation or other medicines that need to be kept closer to — or far below — freezing.
Much like you in middle school, Ember's job now is to be even cooler.
We'd love to hear from you! If you have a comment about this article or if you have a tip for a future Freethink story, please email us at [email protected].