Disney creates "Virtual World Simulator" for its theme parks
The tech would let park visitors seamlessly interact with 3D digital characters.
Thanks to Disney's newly patented "Virtual World Simulator," your next trip to a Disney theme park could include interactions with 3D digital characters — and you wouldn't need a smartphone or special goggles to see them.
The goal: Unlike virtual reality (VR), which replaces the entire real world with a digital one, augmented reality (AR) combines the two, letting us view digital elements in the context of the real world.
It's easy to see why this is something Disney would be interested in. Its parks are already designed to look magical, and the addition of 3D digital characters, props, and more to the real world could open up whole new entertainment possibilities.
The challenge: Today's AR experiences typically require people to either wear AR goggles or use smartphones or tablets like "windows" into the hybrid world — look at the screen, and you'll see whatever is in front of your camera plus the virtual imagery.
Neither of these approaches is ideal for incorporating 3D digital elements into Disney's theme parks, though.
AR goggles can be expensive and cumbersome, and only the person wearing them would be able to see the digital elements — that means multiple visitors wouldn't be able to share the same experience, and Disney wants to help people make memories together.
Multiple people could view digital elements through a phone or tablet screen, but that approach is best for stationary experiences — distracted walking is dangerous — and Disney wants visitors to be able to enjoy the experiences while navigating a park.
A Virtual World Simulator: Disney newly patented Virtual World Simulator is designed to allow people to enjoy 3D digital elements in its theme parks without the need for goggles or a smartphone screen.
Based on the patent, the tech would track the location of visitors (either through their smartphones or a handheld device) and then project graphics onto 3D surfaces when visitors are near them.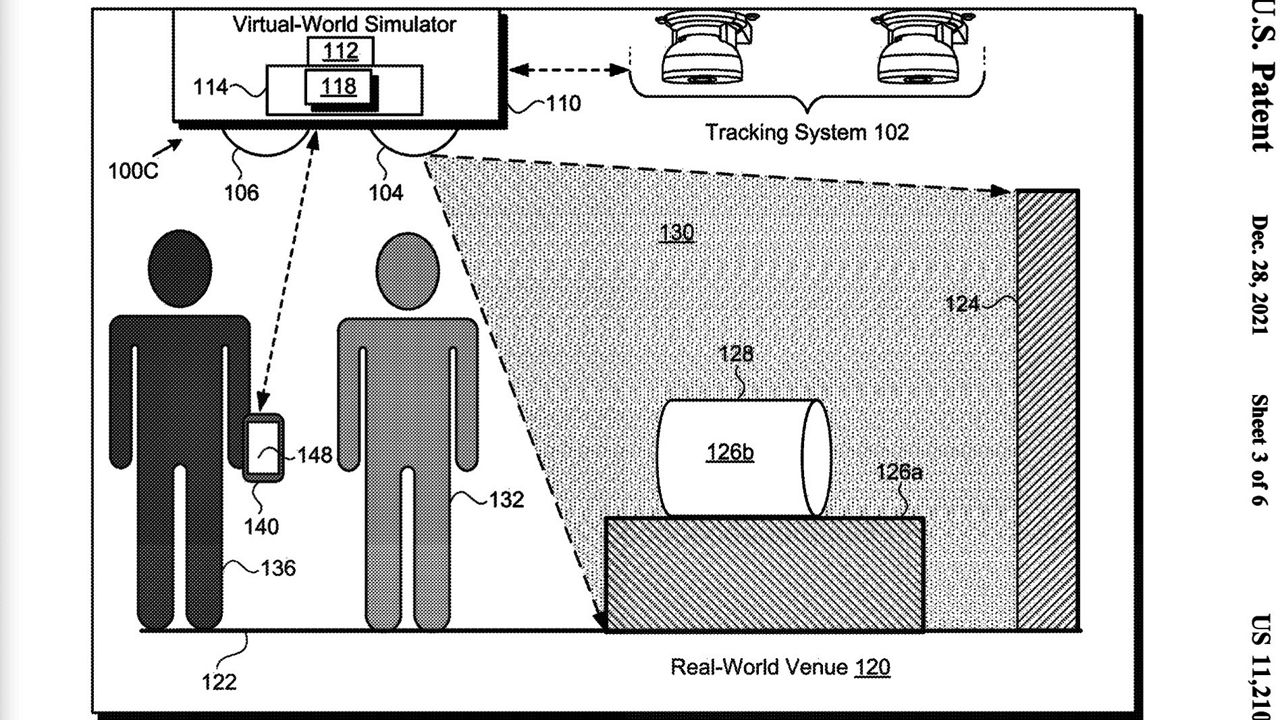 In practice, this might mean projecting an animated Mickey Mouse onto a plain cylindrical surface whenever visitors are nearby. The character could talk to the visitors through a speaker and would appear almost like a hologram to everyone in the group.
"Rather than look through a phone screen or a headset, Disney developed a system almost similar to a movie projector to project on a real surface what humans see on a screen," John DeStefano, a patent and technology technical adviser at the law firm Founders Legal, told Spectrum News.
"It's more real-world experience rather than looking at it through a phone," he continued.
The cold water: The approval of this patent just means that Disney has invented a new technology and can take legal action against anyone who tries to build or sell something like it — it doesn't mean Disney has to deploy the Virtual World Simulator.
"[Disney] files hundreds of patents each year as we explore developing technologies," a Disney spokesperson told the Los Angeles Times, adding that the company has "no current plans to introduce this technology into an upcoming experience."
The big picture: While there's no guarantee that Disney's Virtual World Simulator will one day be added to its theme parks, the company probably wouldn't have dedicated time and resources to developing the tech if it didn't plan to either use or sell it.
Even if Disney were to abandon this idea entirely, though, it appears to view experiences that combine the virtual and real worlds as a big part of its future.
"[C]onnected park experiences that transcend the physical and digital barrier and unlock new layers of storytelling are a very exciting focus of ours," Tilak Mandadi, then-head of digital and technology for Disney Parks, Experiences, and Products, wrote in a November 2020 blog post.
"We're looking forward to bringing more of these experiences to our guests in the months and years to come — in our parks, at our hotels, on our cruise ships, and extending into guests' homes," he added.
We'd love to hear from you! If you have a comment about this article or if you have a tip for a future Freethink story, please email us at [email protected].