In Austin, Texas, two innovative organizations are coming together to build a series of 3D printed homes for the homeless.
Mobile Loaves & Fishes believes that housing alone isn't the solution to homelessness, but instead, building a safe and loving community around the homeless will have a greater impact. As part of their mission, they built the Community First! Village which provides affordable, permanent homes for the homeless along with other support systems to help them thrive.
Now, Mobile Loaves & Fishes is continuing their track record of disruptive thinking by partnering with ICON, a company that uses 3D robotics, software, and advanced materials to revolutionize homebuilding.
Jason Ballard, co-founder and CEO of ICON, said, "Vulnerable communities are almost never the first people to get access to breakthroughs in technology, and we get to deploy these breakthroughs in the service of people who need it most."
A Closer Look at Homelessness in America
According to national homelessness statistics, 552,830 people were homeless on any given night in 2018. The U.S. homeless population includes individuals living alone or with families, and some youth living without guardians.
How have we attempted to mitigate this issue? Many of today's "solutions" to homelessness are ineffective because they're strictly transactional. Chronically homeless individuals require resources in addition to shelter and a warm meal in order to build the confidence and dignity that will allow them to transform their lives.
In the same vein, Mobile Loaves & Fishes believes homelessness is a human issue that requires a human response. For the organization, human to human and heart to heart connection is the answer.
An All-Encompassing Approach to Housing the Homeless
For Mobile Loaves & Fishes, helping the homeless in Austin, Texas is not a new pursuit. Since 1998, the nonprofit has been building relationships with those experiencing homelessness. They provide food, clothing, and friendship through their food trucks on the streets of Austin 365 days a year.
Serving through the food trucks taught them a simple truth: the single greatest cause of homelessness is the profound and catastrophic loss of family.
Recognizing that shelter only serves a basic need, Mobile Loaves & Fishes takes a unique approach to mitigating homelessness. In their neighborhood, the Community First! Village, they uplift residents by cultivating a strong sense of community.
This one-of-a-kind neighborhood is designed to help residents make lasting changes in their lives, start the healing process, and find new ways to connect with their purpose.
In the 51-acre village, residents have access to on-site support and public spaces such as a theater, art gallery, a market, a farm, nature trails, laundry, food services, health services, and more.
Residents also have the opportunity to earn income through the various micro-enterprises in the neighborhood, such as car care, screen printing, blacksmithing, and woodworking.
Housing at the Community First! Village is comprised of micro-homes, manufactured housing, and RVs, providing a flexible variety to residents based on their needs. Now, Mobile Loaves & Fishes has added a new, revolutionary type of residence to their list with six 3D printed homes.
Introducing 3D Printed Homes for the Homeless
With the nation's first 3D printed homes for the homeless, ICON is using its advanced technology stack to create solutions that could decrease cost barriers and provide a faster way to deliver housing.
Their 3D printer can deliver a completed wall system for homes up to 2,000 square feet. A 400-500-square-foot home can be 3D printed by ICON in just 24 hours, spread across several days. This leaves only the roof and other finishes to be completed using traditional construction methods.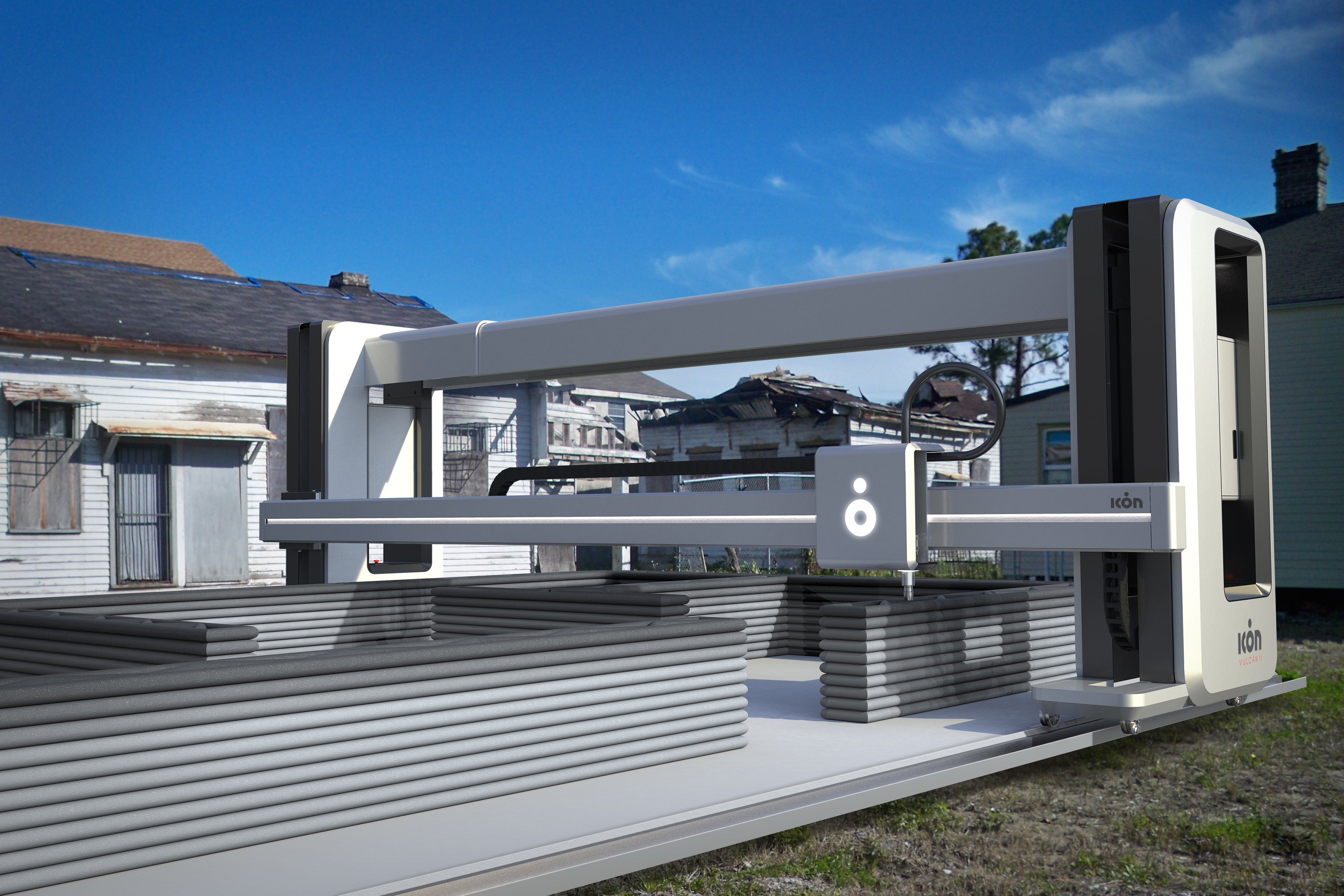 With this technology, ICON is poised to completely revolutionize the construction industry. They're applying additive manufacturing principles to build homes at scale with a novel process and proprietary materials.
Home construction methods haven't undergone many changes since the Middle Ages. These antiquated construction methods are wasteful, time consuming, and costly. Not only is ICON addressing these problems, but the potential of their technology can increase accessibility of housing options to under-served communities.
With impressive design and durability, a 3D printed house provides more than just adequate shelter to someone who was previously living on the streets. These innovative homes are some of the most unique homes ever built – and ones that anyone would be proud to live in.
For more interesting news about the people and ideas that are changing our world, subscribe to Freethink.
About Stand Together
Stand Together helps social entrepreneurs supercharge their efforts by connecting them with passionate partners and the resources necessary to make a greater difference.
Through Stand Together's philanthropic community, they're tackling some of the nation's biggest challenges so that every person has the opportunity to realize their full potential.
Learn more about getting support for your business, or become a partner today at StandTogether.org.