DIYers create halloween costume for 10-year-old in a wheelchair
Émile went as Chad the Dragon — thanks to a maker community working to make Halloween traditions accessible to all.
Three years ago, Émile had a Halloween costume for his wheelchair, thanks to Montréal makers who got together to create a dragon in his castle. The previous year, Émile had been sad because other kids could not see the back of his Halloween costume.
For Émile, who was born with a disability that requires him to use a wheelchair, Halloween has not always been easy. Accessibility issues posed by escalators, stairs or mouldings on floors create additional hurdles to mobility. As Boston marathon victim Jessica Kensky claims "I am living in a world that is not built for me." Public transportation, hospitals, schools, grocery stores, shopping centres and restaurants are often not designed keeping in mind that people with mobility issues might want to access these places.
For people requiring an assisted mobility device, navigating cities is not easy, and Halloween is no exception. Even worse, Halloween costumes are not designed for kids who wear them sitting down.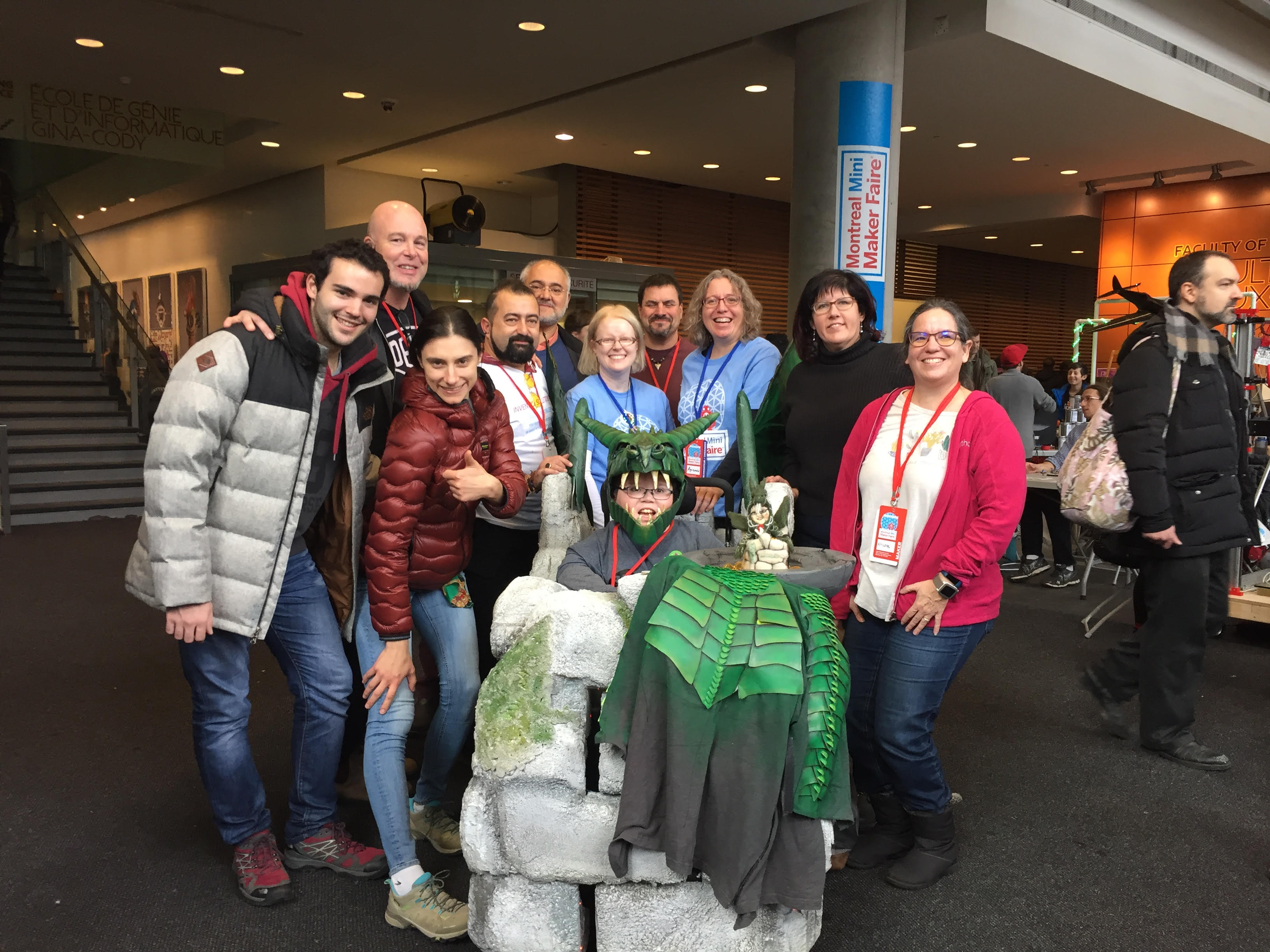 Maker culture
Maker culture is an emerging worldwide movement of do-it-yourselfers who like to tinker with disruptive technologies, open-source electronics and traditional materials to innovate or imagine solutions to existing problems. Maker communities are everywhere. They share their projects online and gather together in physical spaces that are called makerspaces, hackerspaces or fablabs to work together with traditional tools, 3D printers and laser cutters.
In 2018, Émile connected with the maker movement to get a special Halloween costume for himself and his wheelchair — a dragon in his castle.
Magic Wheelchair is a non-profit organization "that builds epic costumes for kiddos in wheelchairs — at no cost to families." The organization started with Ryan Weimer whose son was born with spinal muscular dystrophy. When his son wanted to be a pirate for Halloween, Ryan decided to turn his wheelchair into a pirate ship.
For people requiring an assisted mobility device, navigating cities is not easy, and Halloween is no exception. Even worse, Halloween costumes are not designed for kids who wear them sitting down.
Following the inspiration of Magic Wheelchair, Concordia University's Education Makers and Montréal's Duct Tapers Anonymous decided to get together to build a wheelchair Halloween costume. Education Makers had experimented with 3D printing dragon scales on fabric and with thermoplastic. Duct Tapers Anonymous was coming with a wealth of know-how ranging from handymen, engineers, sculptors and seamstresses.
During the first meeting, the group decided to call the project Rolloween, a contraction of roll-into-Halloween.
They started looking for a candidate for the costume. They reached out to their network and found one child, Émile, in the Montréal area who said he would want to be a dragon this Halloween. He said the dragon's name was Chad the Dragon.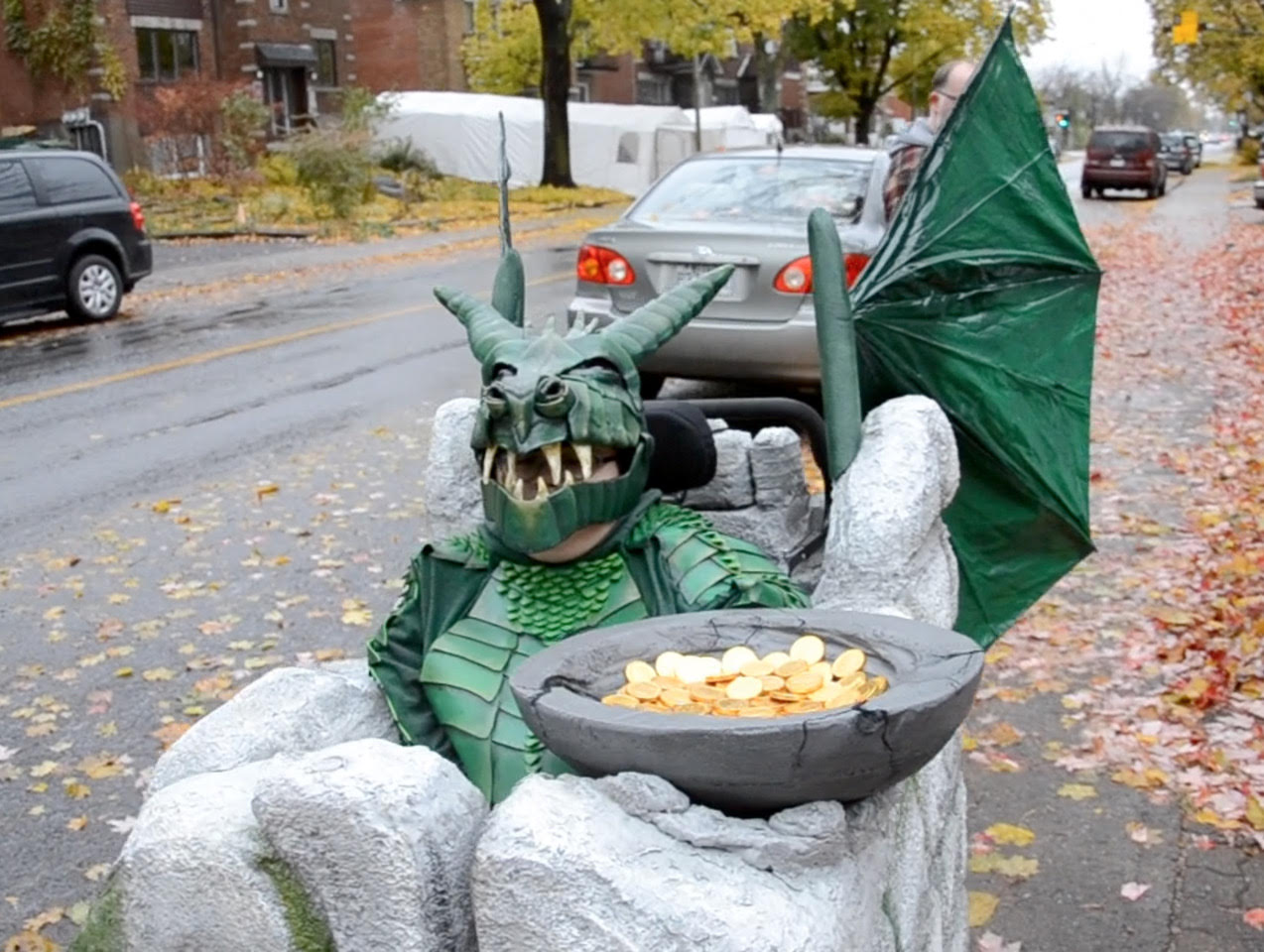 The dragon comes to life
The group gathered the necessary materials to create Chad: polystyrene to build the castle around the wheelchair, thermoplastic to form the dragon head, silk and green polylactic acid (PLA) filament to 3D print the dragon scales, an umbrella to build the wings, foam to build parts of the costume and a set of Hallowing — programmable eyes for the dragon.
They met every two weeks for two months and as Oct. 31 approached, they started spending their weekends in a garage that belonged to a member of Duct Tapers Anonymous. More meetings were happening at Milieux Make — the Milieux Institute for Arts Culture and Technology makerspace. As parts of the costume were coming to life, Émile visited the garage for fittings.
This Halloween project is not just representative of the maker movement, it epitomizes the maker culture that is emerging in Montréal. Skill, creativity, generosity and dedication is what we need for social innovation and through maker culture, everything is possible. I should know! As the Concordia University Research Chair in Maker Culture, I study maker culture.
On Halloween three years ago, Émile was dressed as Chad the Dragon. He paraded the dragon during the Montréal Maker Faire.
One of the hallmarks of maker culture is that makers can challenge the status quo and disrupt how things are traditionally done. The Rolloween project is an example of that.
This is the story of a one boy that wanted to be a dragon for Halloween. He has helped to spark a change to costume designs so that the tradition of Halloween can become more inclusive and respect individual differences. And the future can be changed one story at a time.
This article is republished from The Conversation under a Creative Commons license. Read the original article.