See the world's first floating city: OCEANIX Busan 
Construction on the sustainable city will begin in 2023 and should wrap within three years.
This article is an installment of Future Explored, a weekly guide to world-changing technology. You can get stories like this one straight to your inbox every Thursday morning by subscribing here.
The world's first floating city is being built in South Korea.
The ambitious project — OCEANIX Busan — is a collaboration between the United Nations Human Settlements Programme (UN-Habitat), the port city of Busan, and OCEANIX, a tech company focused on floating architecture.
If it's a success, it could help the world's coastal cities adapt to the future of rising sea levels, as well as serve as a model for the cities of tomorrow.
The challenge: Rising sea levels are one major consequence of climate change.
As our planet is warming, glaciers and ice sheets are melting, and at the same time, the water in the oceans is expanding as it warms.
This is causing sea levels to rise — since 1880, the world's average sea level has risen by 8-9 inches, with about one-third of the increase happening in just the past 25 years.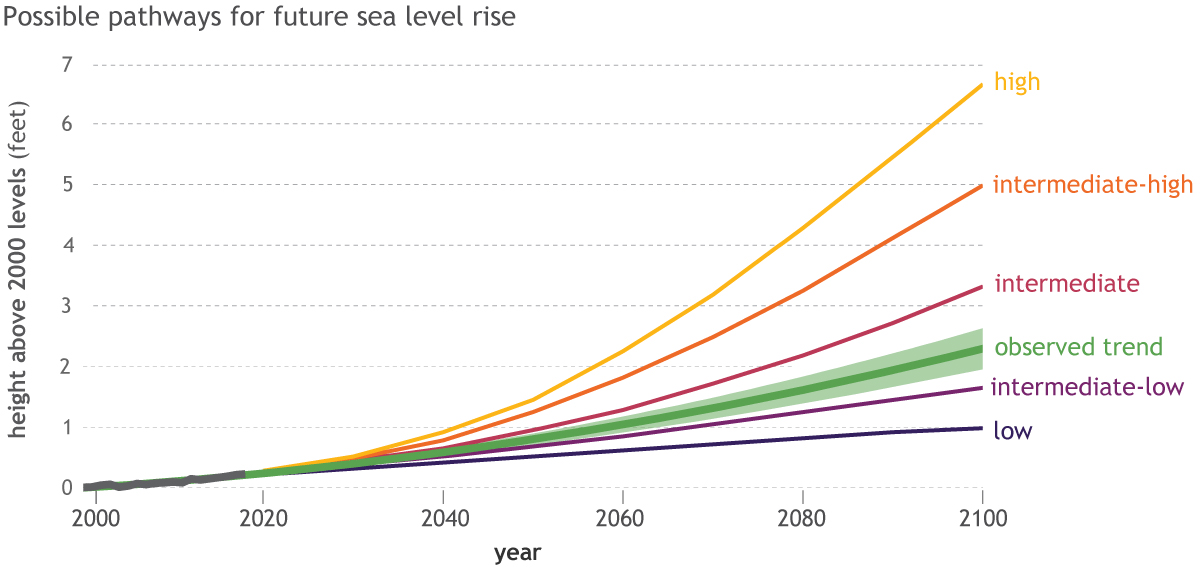 Rising sea levels can erode coastlines, increase flooding, and contaminate freshwater sources people depend on for drinking water — and because an estimated 40% of the world population lives within 62 miles of the coast, it has the potential to affect a lot of people.
In addition, cities built on coastlines tend to sink over time, which increases relative local sea level as buildings and land subside.
"The combination of anthropogenic subsidence and increasing rates of sea level rise is a five-alarm fire for many delta cities," Manoochehr Shirzaei, a sea level expert from Virginia Tech, told NASA Earth Observatory.
"Places like New Orleans, Kolkata, Yangon, Bangkok, Ho Chi Min City, and Jakarta will undoubtedly face increasing pressures from flooding and saltwater intrusion," he continued.
The floating city: Since coastal cities have the most valuable real estate in the world, there's a lot of pressure to solve this problem — and some people are getting creative. Rather than just playing defense, with seawalls and levees, they're actually planning on building onto the sea.
OCEANIX was founded in 2018 with the goal of designing and building sustainable, floating cities. The idea is that they would be constructed off the coasts of existing metropolises threatened by rising sea levels, essentially giving them new, flood-protected "land."
In 2019, UN-Habitat agreed to build a prototype OCEANIX city, and in 2021, Busan — South Korea's biggest port city — signed on to host it.
OCEANIX was founded in 2018 with the goal of designing and building sustainable, floating cities.
In April 2022, at the Second UN Roundtable on Sustainable Floating Cities, the group unveiled the design of OCEANIX Busan, which was spearheaded by the architecture firms Bjarke Ingels Group (BIG) and SAMOO.
"Today is a pivotal milestone for all coastal cities and island nations on the frontlines of climate change," said OCEANIX CEO Philipp Hofmann.
"We are on track to delivering OCEANIX Busan and demonstrating that floating infrastructure can create new land for coastal cities looking for sustainable ways to expand onto the ocean, while adapting to sea level rise," he continued.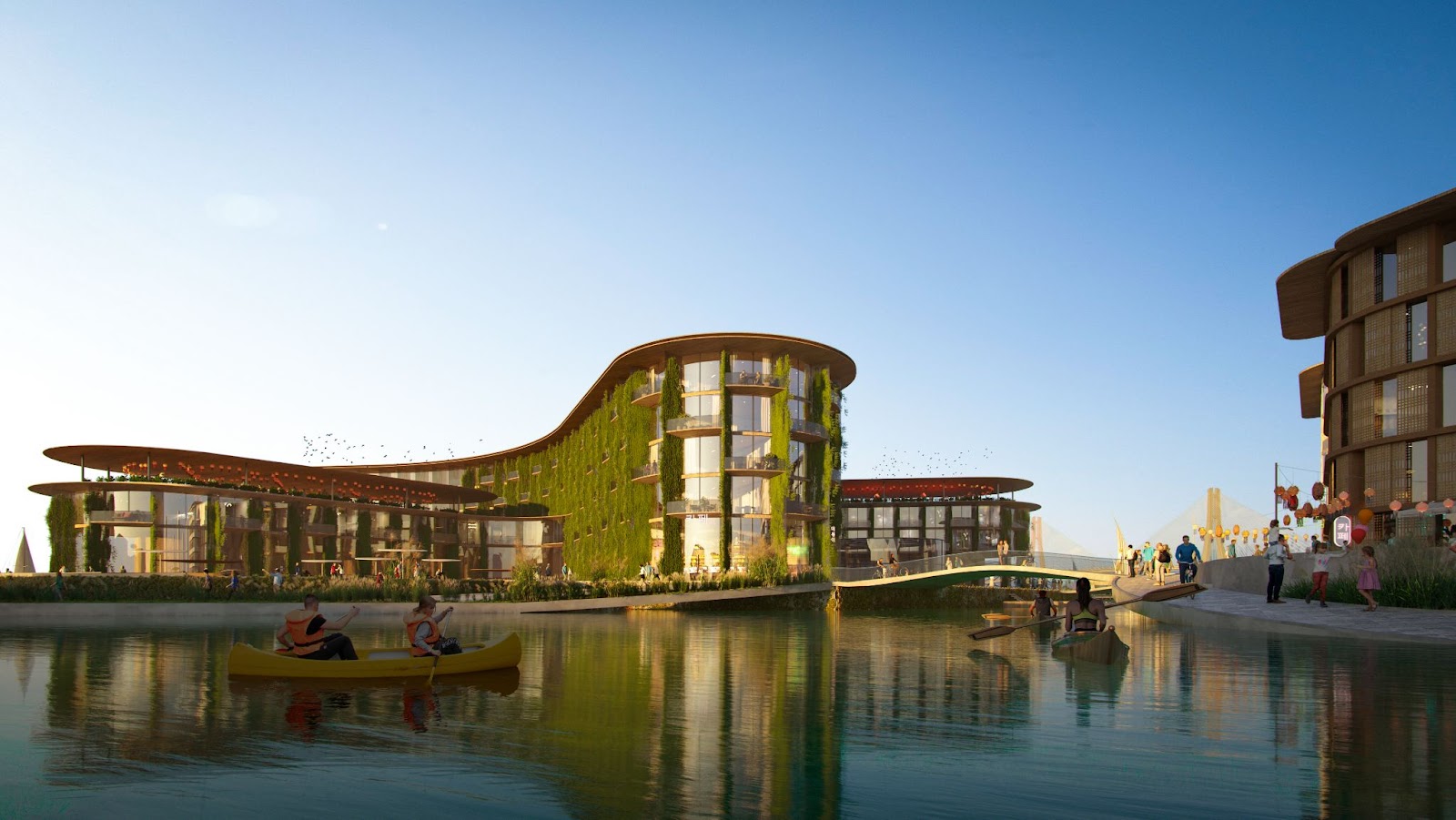 The layout: OCEANIX Busan will consist of three floating platforms ("neighborhoods") totaling 15.5 acres. That's about as much surface as a dozen football fields, and according to the developers, it's enough room to accommodate 12,000 people.
The neighborhoods will connect to one another and the mainland via bridges, and each will serve a specific purpose:
Living: This neighborhood will have residential buildings, local retailers and food vendors, and a "community backyard" where residents can gather at its center.
Lodging: The Lodging platform will be built to support visitors — it'll have many retail and dining options, as well as guest rooms designed to maximize ocean views.
Research: The third neighborhood will be a co-working and research hub, with a temperature-controlled atrium at its center for hydroponic agriculture.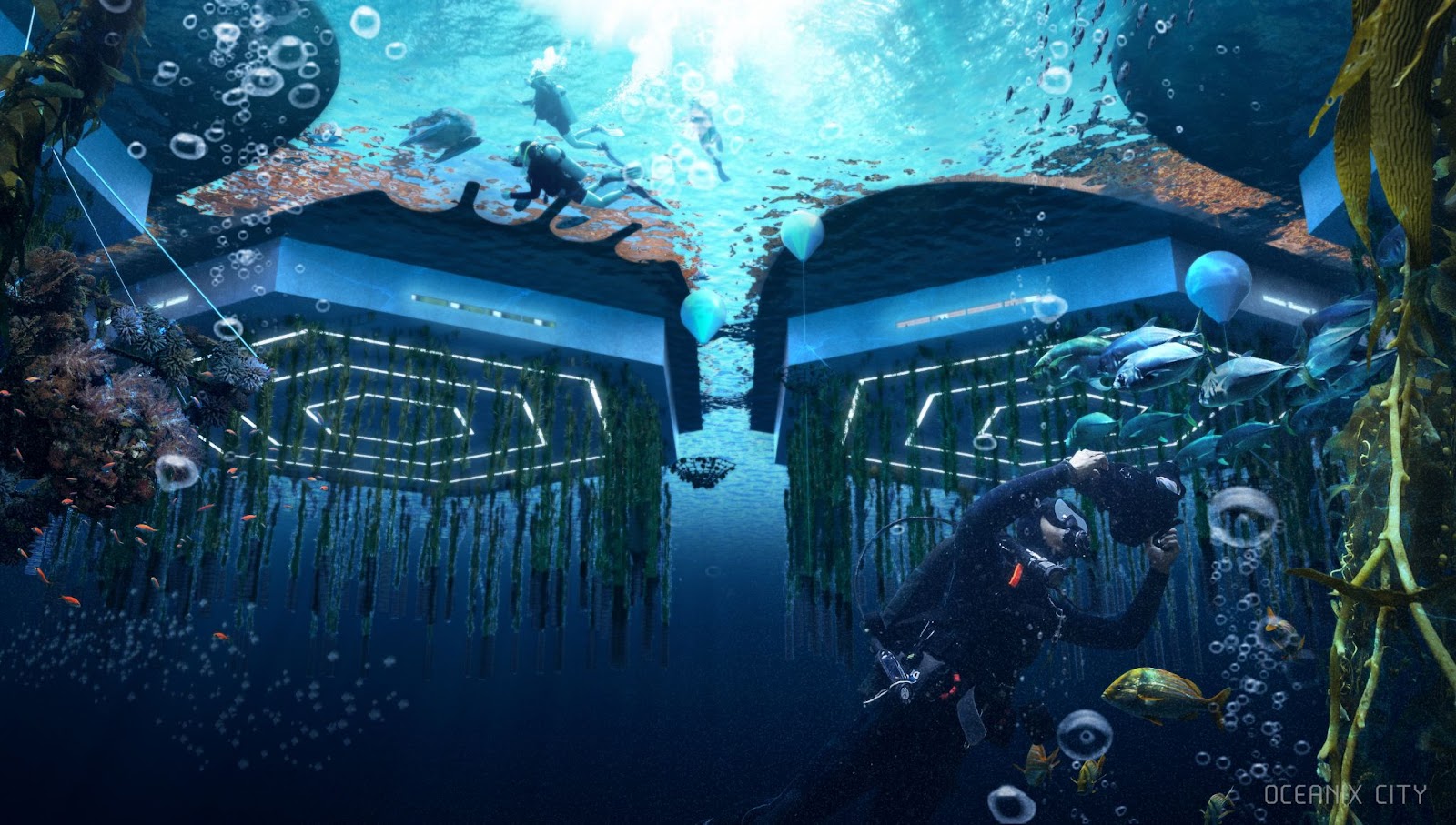 Each neighborhood will be secured to the ocean floor with enough slack that it can rise and fall with the water — people reportedly won't be able to feel this motion, meaning the population of OCEANIX Busan won't be limited to only those with sea legs.
The undersides of the platforms will be coated in Biorock, a material that's produced when a low electric current is used to pull minerals from the water. Those minerals then solidify into a material that is harder than concrete, but buoyant.
"Biorock is a unique ocean technology that produces the only marine construction material that grows, heals itself, and becomes stronger with age," OCEANIX writes on its website.
If the prototype city is a success, Busan could choose to connect more than 17 additional platforms to the initial three, for a total of over 100 acres.
Sustainable city: The goal of OCEANIX Busan isn't simply to give people a flood-proof place to live — it's to demonstrate what cities could look like if sustainability was built into their foundation.
The floating city has no roadways, only "pedestrian-friendly paths" to support walking, biking, and autonomous electric vehicles, so it won't produce any vehicle emissions, and all of the energy used in it will be clean thanks to solar panels on rooftops and floating platforms.
Each neighborhood will treat and recycle its water, and waste will be treated and recycled as energy, agricultural feedstock, and more.
"Imagine a masterplan that is not made from paving roads or building foundations, but one that channels the flow of energy, water, food, and waste and create this kind of blueprint for a maritime metropolis," said BIG founder Bjarke Ingels at the roundtable.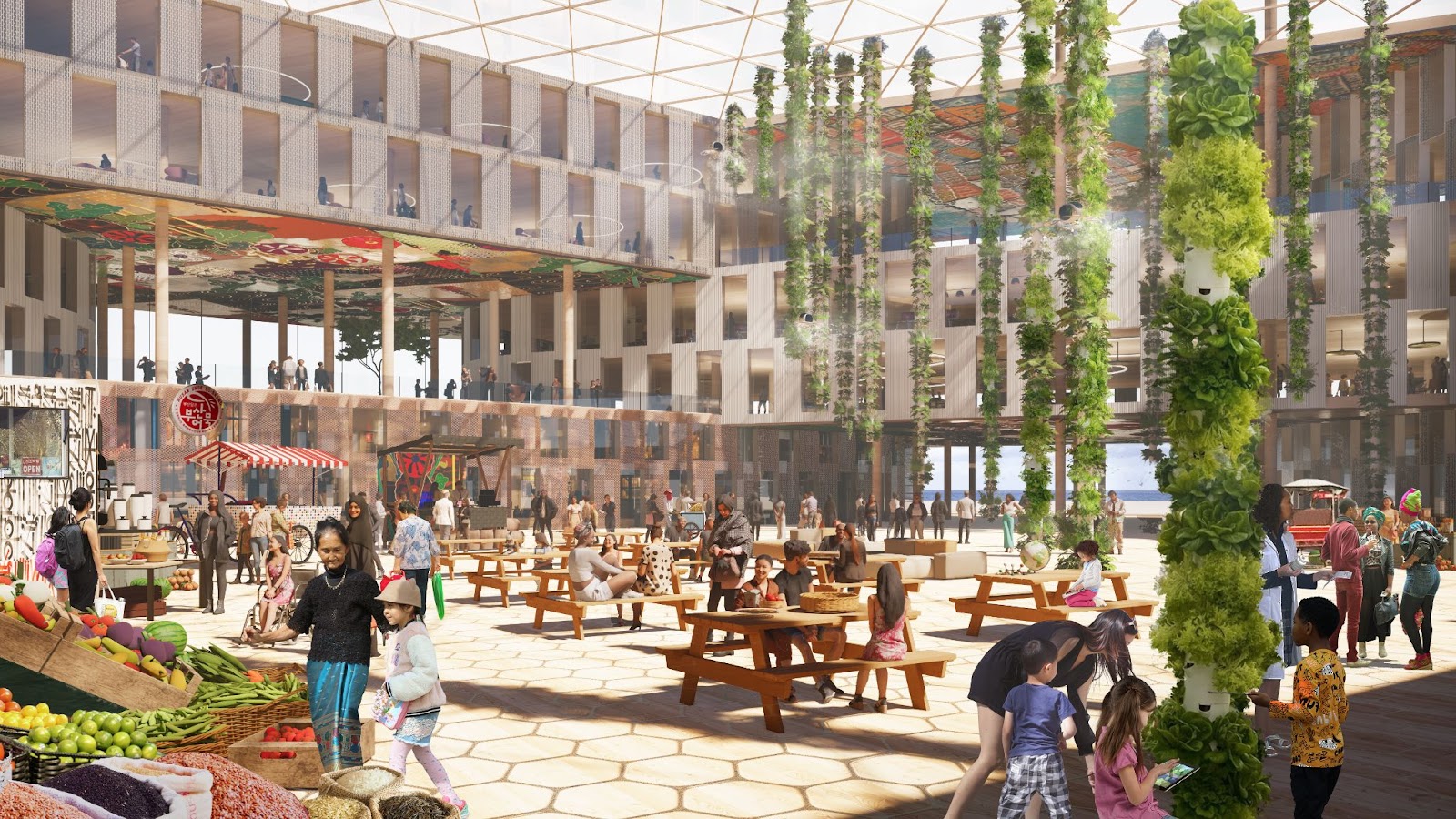 Looking ahead: OCEANIX is funded by private investments, but the Busan project's total cost and who is paying for what is not clear.
OCEANIX co-founder Itai Madamombe told Business Insider in December 2021 that the project would cost an estimated $200 million. But based on the final design and OCEANIX's estimated per-square-meter cost for the project ($10,000), the price tag could be closer to $627 million.
The cost of living in the city is also uncertain — Madamombe recently told the audience at SXSW that she hoped units would be "affordable," but acknowledged that that's a relative term.
Madamombe also told BI that construction on OCEANIX Busan would take an estimated three years. It's now set to begin in 2023, so that means the first floating city could be built by 2026 (though Quartz reports that the first segment could be in the water by 2025).
The big picture: While the idea of floating cities isn't new, no one has actually built one like this before, so the concept's future could be decided by the success of this prototype — OCEANIX is hopeful it'll soon be constructing floating cities around the world.
"We have started with Busan, but we want to help bring this highly-sustainable infrastructure solution to other coastal cities around the globe," said Hofmann. "It is applicable to any coastal environment, to any climate, and can be easily calibrated to their needs."
We'd love to hear from you! If you have a comment about this article or if you have a tip for a future Freethink story, please email us at [email protected].