Amazon's Prime Air is coming to a new US city
It's expanding internationally, too, and plans to begin delivering drugs by drone.
Amazon's drone delivery service Prime Air is going international, with service expanding to the UK and Italy. The company is also launching Prime Air in another US city and giving customers in one location the option of having their meds delivered by drone.
The background: Amazon founder Jeff Bezos has been talking about using drones to deliver customer orders since 2013, and in 2022, he was finally able to make it happen with the launch of Prime Air in two US cities: Lockeford, California, and College Station, Texas.
"Moving forward, we will integrate drones into the Amazon delivery network."

Amazon
Since then, customers in those locations have had the option of having packages weighing up to five pounds delivered straight to their homes within an hour of ordering them.
As of May 2023, though, Amazon had only made 100 Prime Air deliveries, and while the packages might have arrived faster than normal, the experience for customers wasn't exactly the most convenient — each time they ordered something, they had to place a marker with a QR code on it on their lawn so that the drone would know it had the right house.
What's new? On October 18, Amazon announced that it was expanding its Prime Air service to one city each in Italy and the UK, as well as another to-be-announced US city, by the end of 2024.
It also revealed the MK30, a new delivery drone that is quieter, faster, and lighter, which allows it to fly twice as far as the drone Amazon currently uses. It is also capable of flying in light rain and doesn't need to see a lawn marker to know it's at the right house. Instead, it relies on GPS.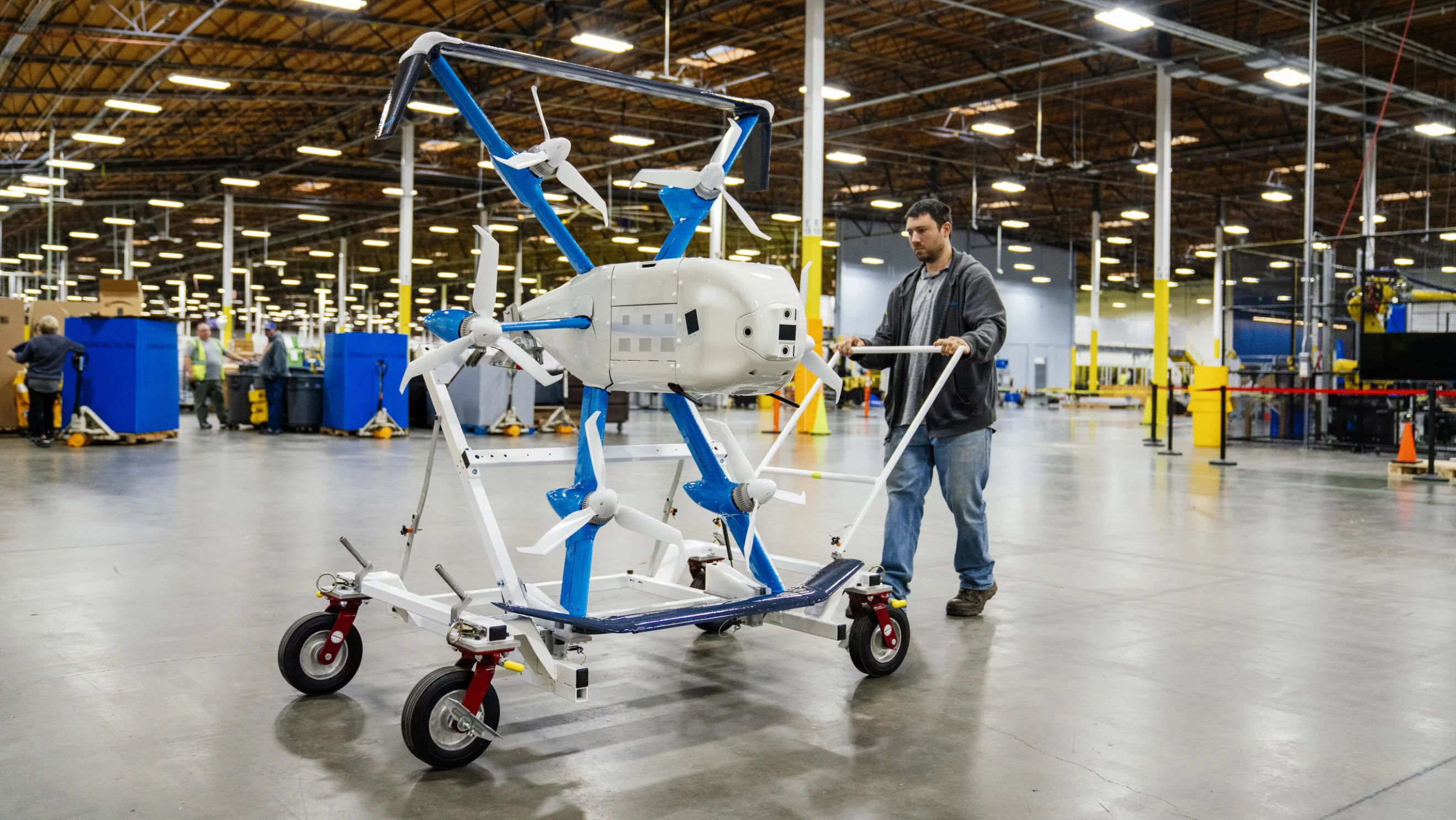 Amazon plans to deploy the MK30 in all five cities in the Prime Air network by the end of 2024. It also plans to begin operating the drones out of its Same-Day Delivery stations, where it fulfills same-day orders delivered by ground vehicles, rather than exclusively though Prime Air Delivery Centers next year.
"Moving forward, we will integrate drones into the Amazon delivery network, so customers will have traditional delivery vans, Flex delivery vehicles, and Prime Air drones leaving from the same building," writes Amazon.
Fast pharma: That wasn't the only news Amazon announced on October 18. It also revealed plans to begin delivering more than 500 medications via Prime Air to Amazon Pharmacy customers in its College Station delivery area.
"Our drones fly over traffic, eliminating the excess time a customer's package might spend in transit on the road," said Calsee Hendrickson, director of product and program management at Prime Air.
"That's the beauty of drone delivery, and medications were the first thing our customers said they also want delivered quickly via drone," she continued. "Speed and convenience top the wish list for health purchases."
Strong headwinds: Getting Prime Air off the ground hasn't been easy for Amazon.
Unmanned drones themselves are almost as new as drone deliveries, and regulators are still working out how to safely integrate them into our airspace — this has significantly limited where Amazon has been allowed to operate Prime Air and under what conditions.
The cost of delivering packages by drone is also way higher than traditional methods.
In April 2022, Business Insider got a look at Amazon documents that revealed the company was spending $484 per drone delivery for its then-ongoing Prime Air trial, but that it projected the cost would drop to $63 by 2025.
That lower cost was based on the assumption that Amazon would be making one million Prime Air deliveries annually by 2025, and that's still nearly 20 times higher than what the company was paying for the average ground delivery in 2022.
Looking ahead: Despite these challenges, Amazon seems just as committed to making Prime Air the next-big-thing in online retail as it was a decade ago, and each expansion of the service and advance in technology puts it one step closer to that goal.
It's not the only company in the drone delivery space, either, and as each makes headway with regulators, the industry as a whole advances, foreshadowing a future in which fleets of drones can safely criss-cross the sky, delivering meds and more with previously unimaginable speed.
We'd love to hear from you! If you have a comment about this article or if you have a tip for a future Freethink story, please email us at [email protected].