Future tech could 3D print objects inside your body
It uses sound to construct objects remotely.
Instead of surgically placing medical implants, doctors may one day build them inside patients' bodies thanks to direct sound printing — a new 3D-printing technique powered by sound waves.
The challenge: Because 3D printers can construct complex shapes to precise specifications, they've become incredibly useful in medicine, allowing doctors to build bespoke knee implants, jaw bones, and more for their patients.
After their custom body part is 3D printed, though, patients typically still need to undergo open surgery to have it implanted. Those surgeries can require long recovery periods and leave patients susceptible to infection.
"Basically, the bubbles can be used … to transform liquid resin into solids or semi-solids."

Mohsen Habibi
What's new? Researchers at Concordia University have developed a new 3D printing technique that could allow doctors to construct objects inside patients' bodies — potentially eliminating the need for open surgeries.
For a study published in Nature Communications, the researchers demonstrated their technique ("direct sound printing") by filling containers with liquid resin. They then used focused sound waves to alter the pressure inside tiny bubbles within the resin.
"We found that if we use a certain type of ultrasound with a certain frequency and power, we can create very local, very focused chemically reactive regions," said lead author Mohsen Habibi. "Basically, the bubbles can be used as reactors to drive chemical reactions to transform liquid resin into solids or semi-solids."
Because ultrasound waves can pass through opaque solids — such as human tissue — direct sound printing could allow doctors to create implants inside their patients after injecting the target area with a biocompatible liquid.
To demonstrate that application, objects were printed on the other side of a segment of pig skin, muscle, and fat during the study.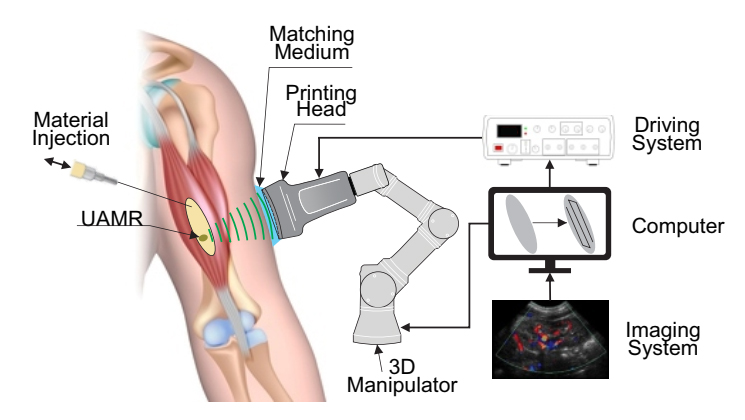 Looking ahead: Much more research is needed before direct sound printing could be trialed in people, and it's not clear just what level of detail the tech can achieve — the 3D-printed ear and nose constructed for the study look fairly simplistic.
It seems the tech wouldn't be helpful for implantation procedures that require the removal of something from the body prior to implantation, either — before placing a knee implant, for example, doctors extract damaged bone, so surgery would still be required.

Direct sound printing does work with a variety of liquids, though, and potential applications aren't limited to medicine — it could also be used to repair parts deep within machines, for example.
The researchers are hopeful their tech will make its way into healthcare, though.
"Ultrasonic frequencies are already being used in destructive procedures like laser ablation of tissues and tumours," said researcher Muthukumaran Packirisamy. "We wanted to use them to create something."
We'd love to hear from you! If you have a comment about this article or if you have a tip for a future Freethink story, please email us at [email protected].