Hospitals, morgues, and drive-ins: Empty stadiums fill new purposes
Empty stadiums around the world are filling new roles during the COVID-19 pandemic.
Cathedrals to competition and symbols of civic pride, the COVID-19 pandemic has made empty stadiums a symbol of the new, eerie normal.
Just because they are not hosting games does not mean the stadiums are resting fallow, however. Around the world and across a variety of sports, empty stadiums are being repurposed to assist in communities' fight against COVID-19 — or just to provide some unique entertainment options.
Pandemic Takes the Field
Among the seemingly more common uses is to take advantage of the copious space empty stadiums offer to set up field hospitals. From Brazil's Maracanã sports complex and Pacaembu Stadium — home of Pelé — to the Sacramento Kings' (decidedly less storied) Sleep Train Arena, patients have taken the place of athletes.
As Colombia weathers COVID-19, the Carlos Maro Hoyos and Florencia coliseums are serving as shelters for the homeless in Medellín.
More somberly, some ice and hockey rinks, including the Gardens Ice House in Laurel, Maryland, are serving as temporary morgues.
Spanish soccer franchise Real Madrid's Santiago Bernabéu Stadium and the New Orleans Pelicans' Smoothie King Arena are among the numerous empty stadiums serving as medical supply storage centers.
Meanwhile, large-scale testing sites have sprung up in the parking lots of English Premier League clubs (these are testing centres, of course), as well as the Charlotte Motor Speedway, Dodger Stadium in Los Angeles — able to handle 6,000 people per day — and Miami's Hard Rock Stadium, among many others.
Some Fun and Games
Hard Rock will also play host to a more light-hearted repurposing: hosting open-air and drive-in theaters. According to the Miami Herald, the theaters will show classic films and Miami Dolphins highlights (your Bills-fan correspondent shudders).
Over 200 cars will be able to fit inside the stadium, the Herald reports, while the more intimate outdoor venue will be in the stadium's parking lot. Concessions can be ordered and restrooms will be open.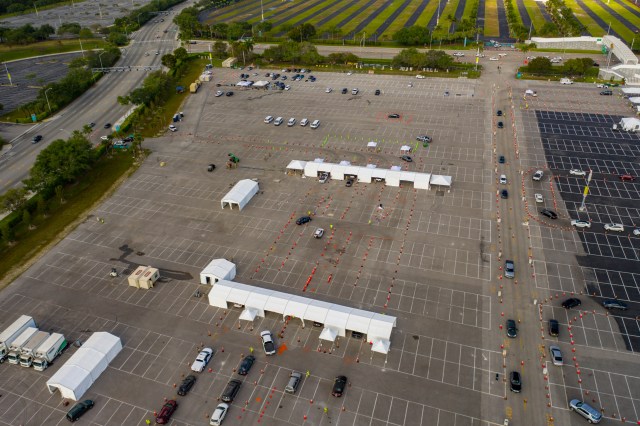 Up I-95, the Yankees plan to host a drive-in festival. Uptown Drive-In will run every weekend in July, Time Out reports, and feature movies, music, and carside dinner service.
For an even more personal experience at the ballpark, the Pensacola Wahoos — fantastically named after the game fish — have put their stadium up on Airbnb. The minor league team, the AA affiliate of the Minnesota Twins, is offering $1,500 per night rates for groups of up to ten people.
Per the Pensacola News-Journal, the idea is the brainchild of Mallory Studor, daughter of the team's owner, and features access to locker rooms, big screens, indoor and outdoor batting practice, and even the field itself.
Studor hoped to provide a unique experience for fans.
"I just thought it was like Cinderella's Castle at Disney," Studor told the News-Journal. "Where would you want to stay where you had the whole place to yourself? I thought of the stadium and clubhouse."