There are two major problems facing cities today. The first is space. For many cities, space is at a premium. And it's an even bigger challenge for coastal cities, like New York and Tokyo, where they're simply running out of land area to expand.
The second problem – which is more unique to coastal cities – is rising sea levels. Sea levels for 500 coastal cities is expected to rise one and a half feet in the next 30 years. While it may not sound like much, that will put 800 million people living on the coast at risk.
And when you combine these two problems – limited city space and rising sea levels – it becomes a lot trickier to find a sustainable solution.
In our recent series, Future of Cities, we've been covering some of Copenhagen's most sustainable approaches to the pressing challenges of urban living. And when it comes to limited coastal living space, the innovators of Copenhagen architecture have solutions for that too.
"That's really exciting, I think… to empower the potential that Copenhagen, as a city by the water, has."

Arne C. Nielsen Partner, Urban Power
Copenhagen Living… on the Water
Picture your favorite city hangout spot. And now picture it on a dock. That's what Copenhagen has been designing with student house company, Urban Rigger. Urban Rigger apartments are made of old shipping containers, and are floating in Copenhagen's harbor. These apartments are also completely carbon neutral, by using low energy pumps, solar panels, and a system that converts seawater into a free and efficient heat source.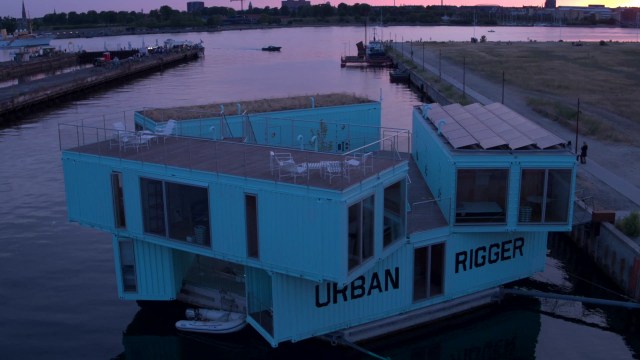 While they may not embody traditional Copenhagen architecture, Urban Rigger apartments are becoming a new city hotspot. Since our crew visited Denmark, they've built five more riggers for a total of 72 apartments on the water.
"Real estate is getting more and more expensive and you get more and more people that want to live in the city. So, you have to be a little bit creative."

Rasmus Røme CEO, Urban Rigger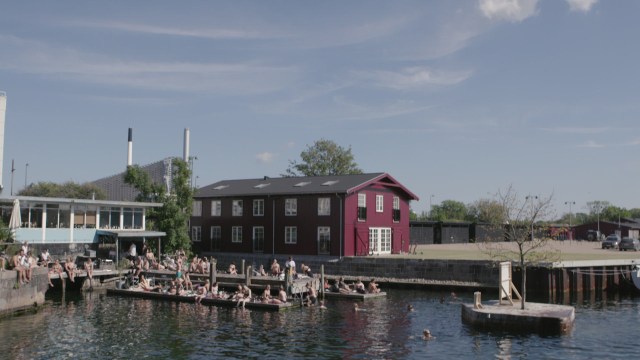 Copenhagen and Urban Rigger have also been focused on creating a community on the water, with public floating parks and student common spaces in and around the housing rigs. These projects have been so successful, that they're considering building hotels, food markets, and senior citizen homes in the harbor as well.
While you wouldn't need to ask us twice to live in Copenhagen's harbor, these floating buildings are only half of the solution for sustainable living in Copenhagen.
Copenhagen Urban Planning to Protect the Coast
That's where Holmene comes in. It's Copenhagen's newest neighborhood that will consist of nine man-made islands just off the city's coast. With the clock ticking on rising sea levels, the islands are designed not only to create more space, but to also act as a natural flood barrier.
"Holmene is rather unconventional. You could also call it utopian maybe… Our process, when (we) develop these areas, (is to) make sure that it's livable and it also gives something back to the city."

Arne C. Nielse Partner, Urban Power
Urban Power, the company behind Holmene, will complete the first three islands over the next decade, with the rest completed by 2040. In the end, the islands will take up about one square mile and create city space for a growing tech sector, green space for residents and the biggest waste-to-energy plant in Northern Europe. The team at Urban Power are getting creative with the design by actually not planning out what will be on some of these islands.

"You start with three or four islands, and then before making the next two ones, you can adapt the design in order to the demand."

Arne C. Nielsen Partner, Urban Power
Man-made islands aren't anything new, but utilizing them to protect the coastline is. This means that the way we approach these islands has to differ from existing models. Urban Power is utilizing the leftover dirt from Copenhagen's construction to build the islands -rather than the more commonly used material, sand – so that the islands don't get washed away.
Copenhagen Design Leading a Sustainable Future
Copenhagen is already a city of unique architecture, but these upcoming projects take modern design one step further to create sustainable solutions to address some of the city's most pressing issues, such as space, rising water levels, renewable resources and more. These advancements are showing the world what's possible for urban sustainable design.
The key to Copenhagens success has been their holistic approach to each and every solution.
"by adding architecture and design, and holistic planning in general, you can solve those technical issues and at the same time create more value for the humans and the wildlife that are using the space."

Arne C. Nielsen Partner, Urban Power
For more stories about the people changing our world, visit our Culture & Society section. Or learn more about Copenhagen, Denmark below.