Biggest aircraft since the Hindenburg cleared for test flights
Google co-founder Sergey Brin's airship startup hits a major milestone.
A massive airship prototype developed by Google co-founder Sergey Brin's startup is ready to hit the skies in California — and potentially help clean up the aviation industry in the process.
The challenge: Aviation is responsible for about 1.9% of global greenhouse gas emissions, and while that might not seem like a lot, if the industry were a country, it would be the eighth biggest polluter, between Japan and Iran.
Airplane contrails — those white streaks you can see trailing behind planes — are also a problem. They form when the hot exhaust from an airplane hits the cold low-pressure air, and they contribute to global warming by trapping heat near Earth's surface.
The idea: While some look to clean up the aviation industry with electric planes, sustainable jet fuels, and hydrogen fuel cells, Google co-founder Sergey Brin is exploring a more radical option: airships.
"It's been 10 years of blood, sweat, and tears."

Alan Weston
Airships are essentially rigid, steerable balloons that fly because they're filled with a lighter-than-air gas. The Hindenburg is probably the most well-known example of an airship — and also the most-well known example of why filling them with flammable hydrogen is dangerous.
Brin's plan is to fill his airships with non-flammable helium and then use them to transport tons of cargo hundreds of miles efficiently and cleanly. He also hopes to use them for humanitarian missions, delivering supplies and personnel to places that are hard to access by road.
The Pathfinder-1: In 2015, Brin founded a startup, LTA Research, to help him reach this goal, and the team came up with the Pathfinder-1, a 400-foot-long airship prototype with electric motors, a carbon-fiber skeleton, and an ultra-light synthetic cover.
In September, the FAA granted LTA Research permission to begin testing the Pathfinder-1 near NASA's Moffett Field in Mountain View, California — this made it the largest aircraft since the 800-foot-long Hindenburg to be cleared for flight tests.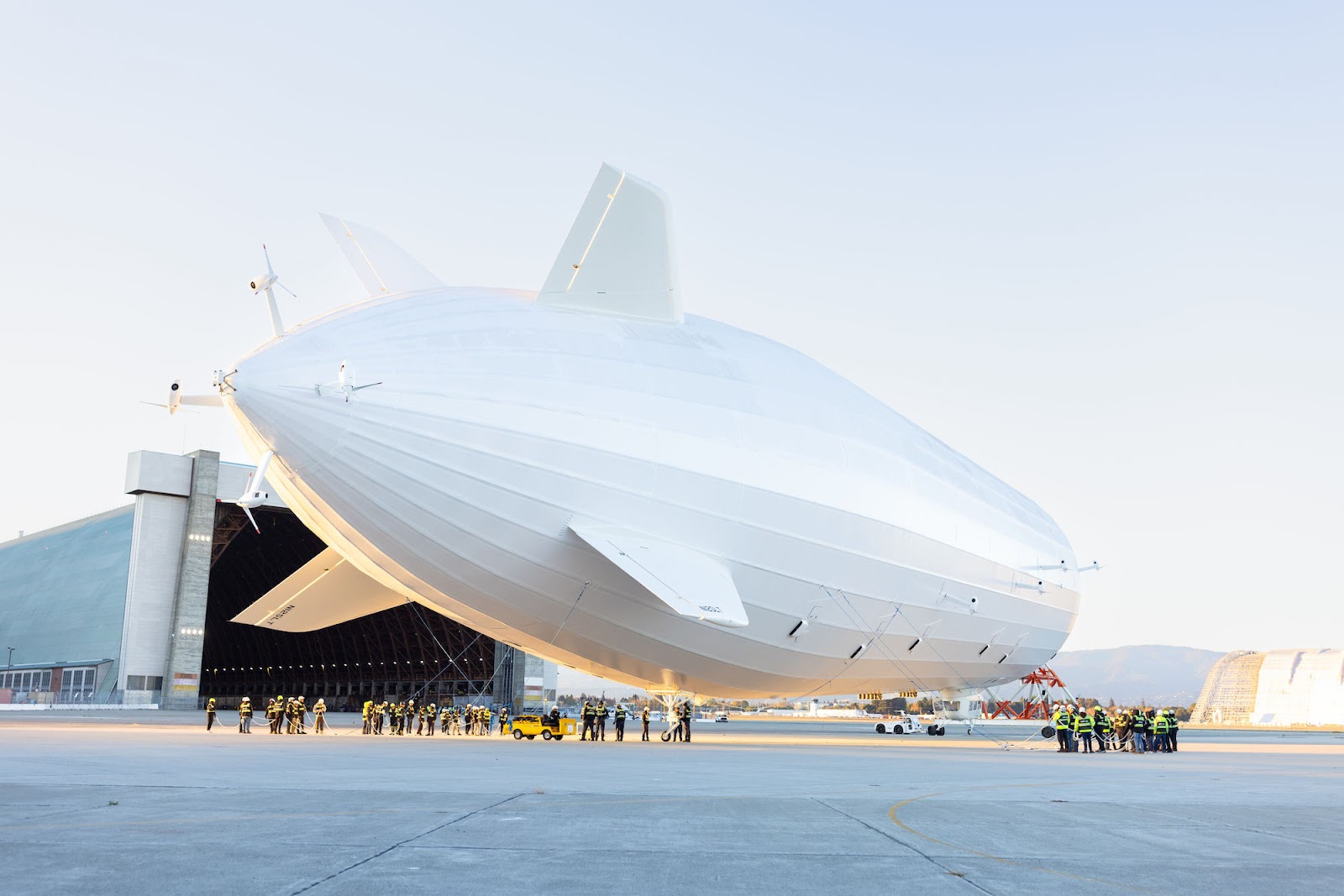 On November 8, the company kicked off the testing process, bringing the airship out of its hangar for the first time.
"It's been 10 years of blood, sweat, and tears," LTA CEO Alan Weston told TechCrunch. "Now we must show that this can reliably fly in real-world conditions. And we're going to do that."
Looking ahead: The FAA license expires in September 2024, so LTA has about 10 months to test its massive airship. During the first tests, the Pathfinder-1 will be close to the ground and tethered to a mast, but LTA will eventually take it higher and out over the San Francisco Bay.
"The advantages of going over the water are multiple," said Weston. "First of all, when you come off Moffett Field, the air is smoother over the Bay than it is anywhere else. That's very important. And there's not much in the way of traffic on the surface, so that's a big plus as well."
Once testing wraps in California, LTA will move the Pathfinder-1 to its new home: an airship hangar in Akron, Ohio, which it purchased from Goodyear. LTA plans to use that hangar as its manufacturing center and is already developing a bigger airship, the Pathfinder-3, at the site.
While Weston doesn't expect LTA's airships to outright replace airplanes, he does believe they could help make aviation more sustainable in the future.
"I'm excited about the potential of not building just one airship, but laying the foundation for many airships to be built," he told TechCrunch. "The innovations and the technologies that we're about to demonstrate have the potential to lay the foundation for a new industry."
We'd love to hear from you! If you have a comment about this article or if you have a tip for a future Freethink story, please email us at [email protected].