New harvesting robots are gentle enough to pick this fruit
They can even tell which berries are ready for market and which aren't.
Two new autonomous harvesting robots are picking raspberries on Portuguese farms — demonstrating how tech can help the agriculture industry combat labor shortages that might otherwise leave fruit rotting in the field.
The challenge: Farmers throughout Europe rely on seasonal workers to harvest their crops, but the COVID-19 pandemic and the war in Ukraine have led to labor shortages across the continent. In response, some farmers have had to simply watch food go to waste.
While farm robots have been deployed to address labor shortages for harvesting apples, lettuce, and other crops, getting machines to pick soft fruits, such as raspberries, without damaging them has been a bigger challenge.
"Our purpose has always been to help growers harvest everything they produce."

Rui Andres
The idea: In 2016, Martin Stoelen launched Fieldwork Robotics to commercialize the robotic harvesting technology he'd developed as a researcher at the University of Plymouth.
In 2019, they completed field trials of a raspberry-picking robot, and now, two of their harvesting robots have been commercially deployed at farms that supply raspberries to supermarkets in the UK and other European countries.
How it works: Fieldwork's harvesting robots have four picking arms equipped with grippers, and they use a combination of sensors and software to autonomously pick raspberries without causing damage that would make the delicate fruit unsellable.
"Raspberries are very sensitive so we have had to develop technology that can apply enough pressure to release the fruit from the stem without damaging it," said Rui Andres, Fieldwork's director and CEO.
"At the same time, our sensors are now so advanced that they can tell if the fruit is ready to be harvested or not, meaning what can be sold is all that is picked," he continued.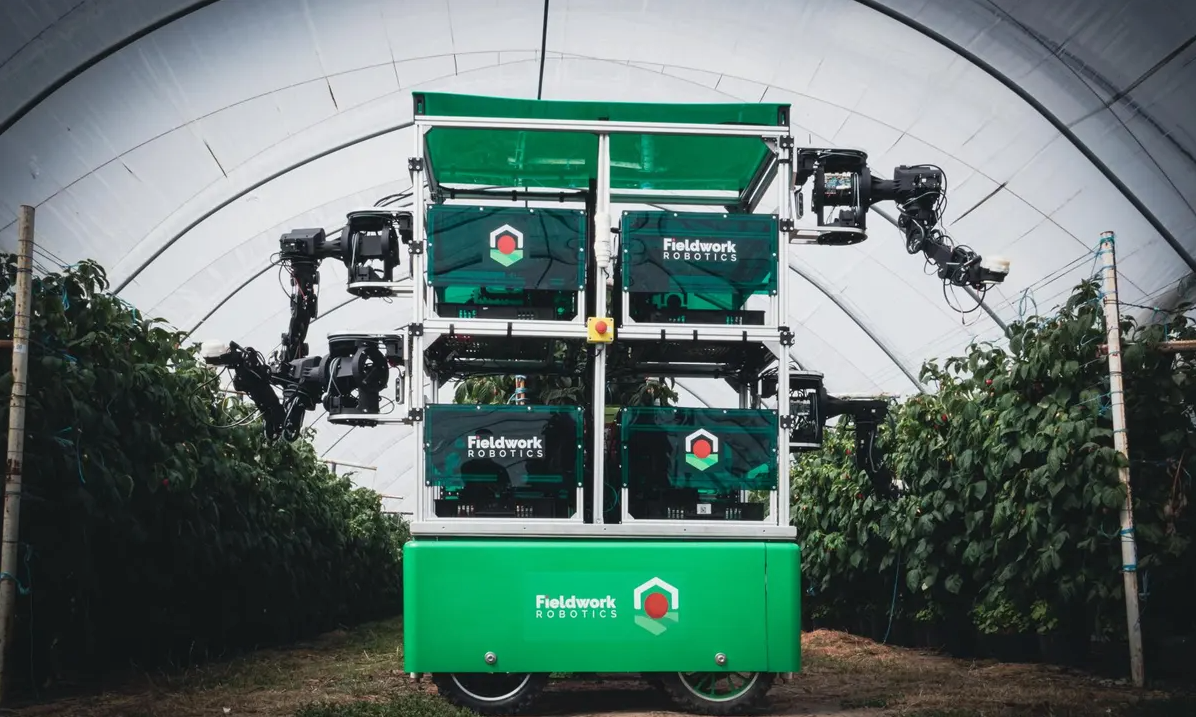 Looking ahead: Fieldwork's harvesting robots are effective, but they aren't fast. Each picks about 2.2 pounds of raspberries an hour — an experienced human picker can collect about 10 pounds per hour.
Fieldwork is now focused on doubling the speed of its system, with the ultimate goal of having it pick 66% more raspberries per day than a human working an 8-hour shift (25,000 berries vs. 15,000).
It's also looking for ways to cut production costs for its harvesting robots, which it currently leases to farmers for about the same price they'd be paying seasonal laborers, and trialing the tech's ability to harvest other types of crops.
By the end of 2022, Fieldwork hopes to have five robots commercially deployed, with another 40 following in 2023.
"Our purpose has always been to help growers harvest everything they produce, keeping waste to an absolute minimum and ensuring they can operate in a sustainable manner," said Andres.
We'd love to hear from you! If you have a comment about this article or if you have a tip for a future Freethink story, please email us at [email protected].