World's first chikungunya vaccine approved in US
The shot, called Ixchiq, protects against a rare but potentially deadly mosquito-borne infection.
The FDA has just approved the world's first chikungunya vaccine, offering people protection for the first time against this rare but painful and potentially deadly infection.
Chikungunya derives from a word meaning roughly "bent over in pain" in the East African Makonde language, due to the disease's severe joint pain and stiffness. It has become a global threat over the last two decades, with cases appearing in over 40 countries.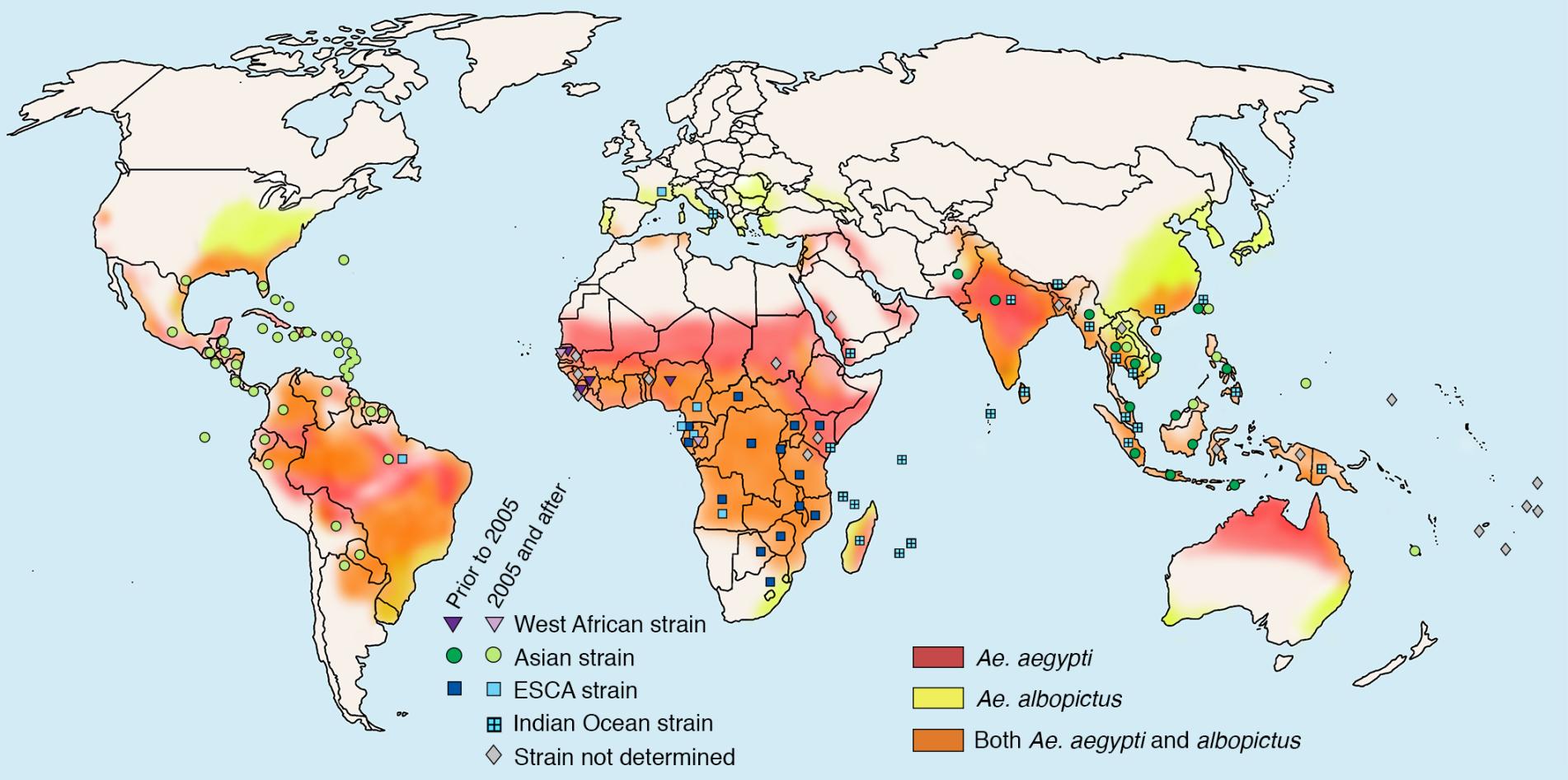 The challenge: Like malaria and dengue, chikungunya virus is transmitted by mosquito bites. It was first identified in Tanzania in 1952, but in 2005, it jumped to islands in the Indian Ocean, then hit India, where it caused a massive outbreak of over 1 million cases, before reaching southeast Asia. In 2013, cases appeared in the Caribbean, and it has now spread throughout the Americas.
"It worries us that the mosquito and these diseases have been increasing with climate change."

Diana Rojas Alvarez
The most common symptoms of chikungunya are fever and joint pain, and most people feel better after about a week of bed rest. That's the good news. The bad news is a chikungunya infection can be deadly for newborns (who can also be infected through their pregnant mothers) or lead to serious, long-lasting health issues for seniors and people with underlying medical problems.
Other than avoiding getting bit by an infected mosquito, there has been no way to prevent chikungunya, and global warming is allowing mosquitoes to thrive in areas that were once inhospitable, leading to an increase in cases in more temperate latitudes.
"It worries us that the mosquito and these diseases have been increasing with climate change, by altitude and by latitude, so now we are seeing transmission where we didn't see it before," said Diana Rojas Alvarez, the WHO's technical lead for zika and chikungunya, in April 2023.
What's new? On November 9, the FDA approved Ixchiq, the world's first chikungunya vaccine, developed by French biotech company Valneva. The vaccine is administered in a single injection, and it's intended for adults at increased risk of exposure to the virus.
"Today's approval addresses an unmet medical need and is an important advancement in the prevention of a potentially debilitating disease with limited treatment options," said Peter Marks, director of the FDA's Center for Biologics Evaluation and Research.
How it works: Ixchiq is a live-attenuated vaccine, meaning it uses a weakened form of the chikungunya virus to trigger an immune response.
During a US-based phase 3 trial, nearly 3,100 people were given the vaccine while another 1,000 received a placebo. About half of those treated reported mild-to-moderate side effects, such as headache or fatigue, while just 2% reported serious effects, most commonly fever.
Because chikungunya is rare in the US, to gauge the efficacy of the shot, the researchers tested the blood of people in both groups for antibodies. The hope was that the vaccine would induce the same level of antibodies shown to protect nonhuman primates from symptomatic infection.
Four weeks after vaccination, 98.9% of those in the treatment group had protective antibody levels, and after six months, the rate was only slightly lower: 95%. (As expected, no one in the placebo group had protective levels of antibodies.)
Stepping stone: Valneva's chikungunya vaccine was approved under the FDA's Accelerated Approval pathway, which is reserved for serious conditions and only requires developers to convince the FDA their product is "reasonably likely" to work.
To receive full approval, Valneva will need to share data from additional clinical trials that show the shot does work as intended in the real world. If they can't, the FDA could decide to pull the drug from the market.
That could either mean another large trial outside the US, somewhere that chikungunya is prevalent, or a human-challenge trial, where volunteers are exposed to the virus in a controlled setting.
Valneva's goal is to begin commercializing its chikungunya vaccine in the US in 2024.
Looking ahead: Pharmacists can't begin doling out Ixchiq shots just yet.
The Advisory Committee on Immunization Practices (ACIP) — the group that helps the CDC decide how vaccines should be deployed — still needs to vote on the vaccine. That's expected to happen during its meeting at the end of February 2024.
Valneva says its goal is to begin commercializing its chikungunya vaccine in the US next year, while also working with the Coalition for Epidemic Preparedness Innovations (CEPI), which helped fund the shot's development, to make it available in parts of the world where it is most needed.
"[A]ll of us will now take a moment to celebrate this historic milestone and to congratulate our colleagues at Valneva on a historic achievement," said CEPI CEO Richard Hatchett. "We'll then get on with the urgent task of making sure that those who most need a chikungunya vaccine can access one."
We'd love to hear from you! If you have a comment about this article or if you have a tip for a future Freethink story, please email us at [email protected].