Startup that created Elon Musk's foldable house opens a new factory
Boxabl's tiny homes start at $50K and can be "unboxed" in an hour.
During a recent appearance on the Full Send podcast, billionaire Tesla CEO Elon Musk revealed that he owns a $50,000 foldable house built by Las Vegas startup Boxabl, confirming a rumor that started more than a year ago.
That rumor generated so much interest in Boxabl that the company now has a waitlist of 120,000 homes and is opening a second factory less than a year after opening its first.
"The target audience heard about this beforehand, and then the Musk press brought in general audience interest, maybe someone who didn't care about housing," founder Galiano Tiramani told Business Insider.
Housing wanted: Musk might have had plenty of options for a new home when he bought his Boxabl, but plenty of other people are in dire need of affordable housing.
The US is in the midst of a housing shortage, with at least 3.8 million more homes needed to meet demand as of 2020. According to mortgage financier Freddie Mac, a main driver of this shortage is the "severe underbuilding of entry-level homes."
"I can't think of a larger market to disrupt or a product with a bigger potential upside."

Galiano Tiramani
Manufactured homes, which are built in factories and then assembled onsite, could be a key part of addressing this shortage (if obstacles from zoning can be worked out).
"We just can't continue to build the houses we grew up in," US Housing Secretary Marcia L. Fudge told Bloomberg in June. "[Manufactured] houses are more efficient, more resilient … These can be built quickly, installed quickly. They are at a great cost point, and so it is a big part of the solution."
The startup: Boxabl is one of the companies trying to get more Americans into manufactured homes.
By building houses essentially on an assembly line, like automobiles, it expects to make them cheaper and faster than other homes. A unique configuration that allows the homes to be folded, meanwhile, cuts the cost and time of transportation and assembly.
"I can't think of a larger market to disrupt or a product with a bigger potential upside," said Tiramani. "We can change housing on a scale the world has never seen."
The Casita: Boxabl's first product is the Casita, a 380-square-foot tiny house that ships in a folded configuration that's just 8 feet wide. That makes it easier to transport than traditional modular homes, which are typically 14 feet wide and beholden to shipping rules for "oversized loads."
The foldable house is made of steel, concrete, and expanded polystyrene foam. Once atop its intended foundation, it can be unfolded in about an hour, revealing a kitchen, bathroom, living area, and bedroom.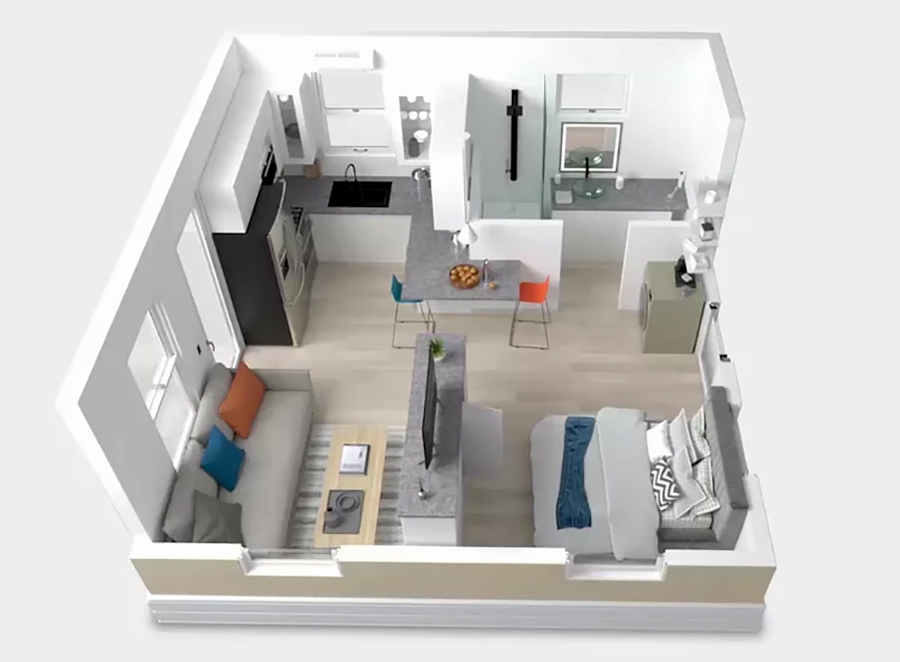 The Casita comes complete with appliances (refrigerator, stove, dishwasher, etc.), and the plumbing, electric, and HVAC systems are all pre-installed — your local utility companies just need to connect their services to the home.
The home is energy efficient, flood resistant, snow load rated, and hurricane wind rated, according to Boxabl.
The bottom line: Tiramani told Benzinga that Boxabl has a waitlist of 120,000 units, and according to the company's website, some customers might have to wait a year or longer for their foldable house and pay more than the $50,000 Musk did.
"If you reserve a Casita today, and it takes a year to receive, we don't know how raw material pricing could change a year from now, so we can't lock in a price," Boxabl writes. "When we get to your place in line, we will reach out to confirm pricing and next steps."
The cost of the home doesn't include shipping, either, which Boxabl estimates to be $3 to $10 per mile from Las Vegas. You'll also need to hire a Boxabl certified and state licensed installer to set up the home.
Between that and other expenses, such as landscaping, foundation building, and roofing (the home comes with a flat roof system and most places require a pitched roof), you could end up paying another $5,000 to as much as $50,000 on top of the cost of the Casita itself, according to Boxabl.
Looking ahead: Musk isn't Boxabl's only notable customer — the startup recently delivered 156 Casitas to the Department of Defense for use as military housing.
As of June 2022, it had only produced about 200 houses, but the new factory should help it scale up production — once both factories are running at full capacity, Tiramani expects they will be able to produce 5,000 units a year.
It'll take a lot more factories (or a few much bigger ones) to fulfill its 120,000 preorders, but the company is working to raise more funds to expand — and the news that Musk indeed owns a Boxabl foldable house could help with those efforts.
We'd love to hear from you! If you have a comment about this article or if you have a tip for a future Freethink story, please email us at [email protected].