Meta unveils new VR headset for work in the metaverse 
It costs $1,500 and ships on October 25.
It's been one year since Facebook changed its name to Meta, a move cementing the company's commitment to the metaverse, an uber-immersive evolution of the internet that we'll navigate using virtual reality (VR) headsets and digital avatars.
Maybe.
Because this vision is only starting to take shape, we don't know for sure what the metaverse will ultimately look like or how we'll use it — but according to Meta CEO Mark Zuckerberg, it's going to change how we do everything online, including work.
"When you're in a meeting in the metaverse, it'll feel like you're right in the room together, making eye contact, having a shared sense of space, and not looking at a grid of faces on a screen," he said at Connect 2021, Facebook-turned-Meta's annual VR/AR conference.
On October 11, Zuckerberg used the Connect 2022 event to provide an update on Meta's efforts to build the metaverse and shape the future of work. Here are the three biggest work-focused announcements to come out of the conference.
Meta Quest Pro
You can't work in VR without a VR headset, and Meta used Connect 2022 to announce its latest device: the Meta Quest Pro. And pro means premium: with a price tag of $1,500, it costs nearly four times as much as the current flagship headset, the Quest 2.
While the Quest 2 is something of a gaming / general use headset, the Quest Pro is optimized for the virtual office, and Meta appears confident businesses and professionals will see enough value in the device to make room in their budgets for it.
"​​Meta Quest Pro was designed with collaboration and productivity in mind and will be a major upgrade for those who use VR as a tool for work," the company wrote.
Meta's blog post on the Quest Pro details the device's technical specs, but notable upgrades from the Quest 2 include:
Full-color mixed reality: If you want to place virtual computer screens and graphics over your actual office, you no longer have to settle for seeing the real world in black and white, as in the Quest 2.
Inward-facing sensors: These will track your eye movements and expressions so your digital avatar can better reflect your likeness during meetings — raise an eyebrow or smile, and your avatar will, too.
An open design: The Quest Pro's removable Light Blockers give you the option to leave your peripheral vision open — according to Angela Chang, head of Quest Pro Product team, this will make it easier to "quickly jot down a note, grab something on your desk, or just be aware of what's happening around you."
While the Quest Pro is expensive, it's still cheaper than some enterprise-focused headsets — Microsoft's Hololens 2 starts at $3,500, for example — so if you're looking for a high-end device, the Meta Quest Pro is now available for pre-order, with deliveries beginning on October 25.
Microsoft Collaboration
While Meta is so committed to the metaverse that it literally changed its name, practically every Big Tech company wants to shape the internet of tomorrow, and Microsoft seems particularly keen on getting people to work in the metaverse.
Rather than continuing to compete in that space, Meta and Microsoft announced at Connect 2022 that they'd be collaborating, making many of Microsoft's productivity tools available on the Quest Pro, including Teams, Microsoft's workspace chat and video-conferencing service.
"We are bringing a Microsoft Teams immersive meeting experience to Meta Quest in order to give people new ways to connect with each other," said Microsoft CEO Satya Nadella. "You can connect, share, collaborate as though you were together in person."
Quest Pro users will also have access to Microsoft's Windows 365 apps, like Word, Excel, and PowerPoint, and Microsoft Intune and Azure Active Directory will be available to companies with Quest for Business subscriptions, which should be available in 2023.
Horizon Workrooms 2.0
In addition to changing its name in 2021, Meta also launched the open beta of a virtual meeting space called Horizon Workrooms.
With Workrooms, co-workers can gather as avatars in a virtual room of their design (those without VR headsets can still join the meeting via computer or phone). They can collaborate on documents, share screens, and sketch ideas on a whiteboard that never runs out of space.
Meta used Connect 2022 to announce new features for Workrooms:
Breakout groups: This gives large groups the ability to break into smaller teams without having to move to different rooms.
Solo upgrade: While Workrooms is built for collaboration, you can also work in it alone, and Meta is now giving you the option to use three monitors in your virtual office, even if your real world office setup only includes one screen.
Magic Rooms: This mixed-reality feature is still in development — Meta hopes to have it ready in 2023 — but the idea is for users to be able to see their co-workers' digital avatars or video-chat feeds as if they're all in the same real-world room.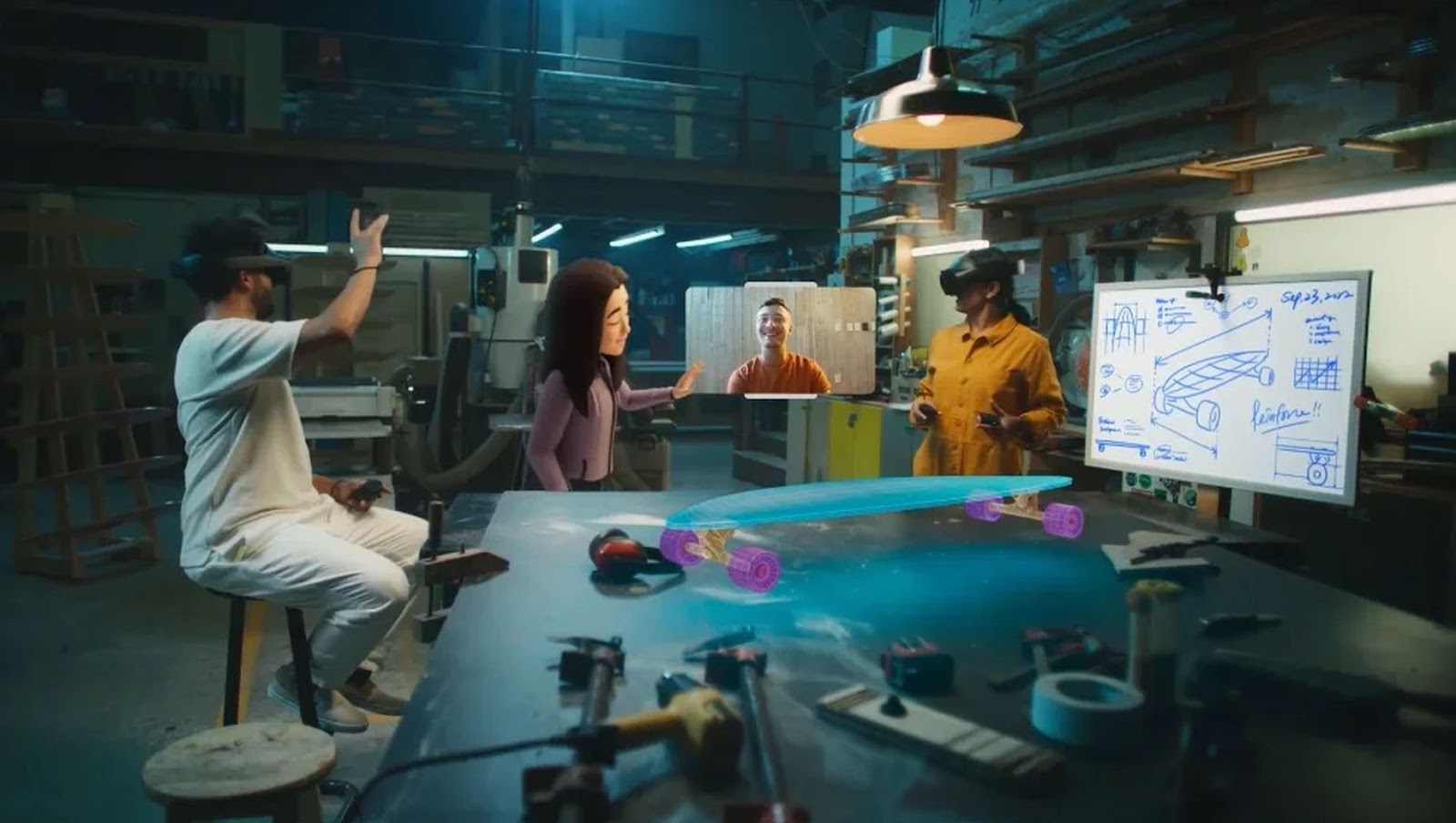 The big picture
It's still too soon to say whether Meta's vision of the metaverse as the workplace of the future will come to fruition. It's possible workers will always prefer their laptop screens and cluttered desks to VR headsets and virtual offices.
Even Meta's own employees are seemingly mixed on the topic — two days prior to Connect 2022, the New York Times reported that many Meta employees didn't even own VR headsets until Zuckerberg started urging them to hold meetings in Workrooms earlier this year.
Still, Meta is committed to designing the internet of tomorrow. In 2021, it spent more than $10 billion on metaverse projects — about 9% of its total revenue for the year — and the money didn't just go toward building virtual monitors and whiteboards, either.
During Connect 2022, Meta highlighted several more technologically advanced projects in its metaverse pipeline, including ones that would let us quickly create photorealistic avatars of ourselves or navigate the virtual world using just our thoughts.
"What we shared today is the first move towards the 200 million people who get new PCs every year one day working in the metaverse," said Zuckerberg. "We're still early in this journey. The products that we showed today are part of a roadmap that extends far into the future."
We'd love to hear from you! If you have a comment about this article or if you have a tip for a future Freethink story, please email us at [email protected].