3 ways autonomous farming is driving a new era of agriculture
Here come the self-driving tractors.
Agricultural drones, self-driving tractors and seed-planting robots are among the innovations that could be key to future food supplies, as autonomous farming promises to produce more crops with less effort and less impact on the environment.
Global farming shortages are affecting food chains globally. Last year the National Farmers' Union (NFU) in the UK wrote to Prime Minister Boris Johnson asking for the implementation of a 'Covid Recovery Visa' to alleviate labour shortages across the supply chain.
Labour shortages in Canada's farming industry could grow to 114,000 by 2025, according to the Agriculture and Agri-Food Labour Task Force. It is a similar story in the US, where changes in immigration numbers are causing a farming labour shortage.
Market forecasts expect the autonomous farming sector to surpass $95 billion by 2027, according to research from Global Market Insights Inc.
How autonomous farming will change agriculture
Here are three ways autonomous farming is set to take the agricultural industry by storm.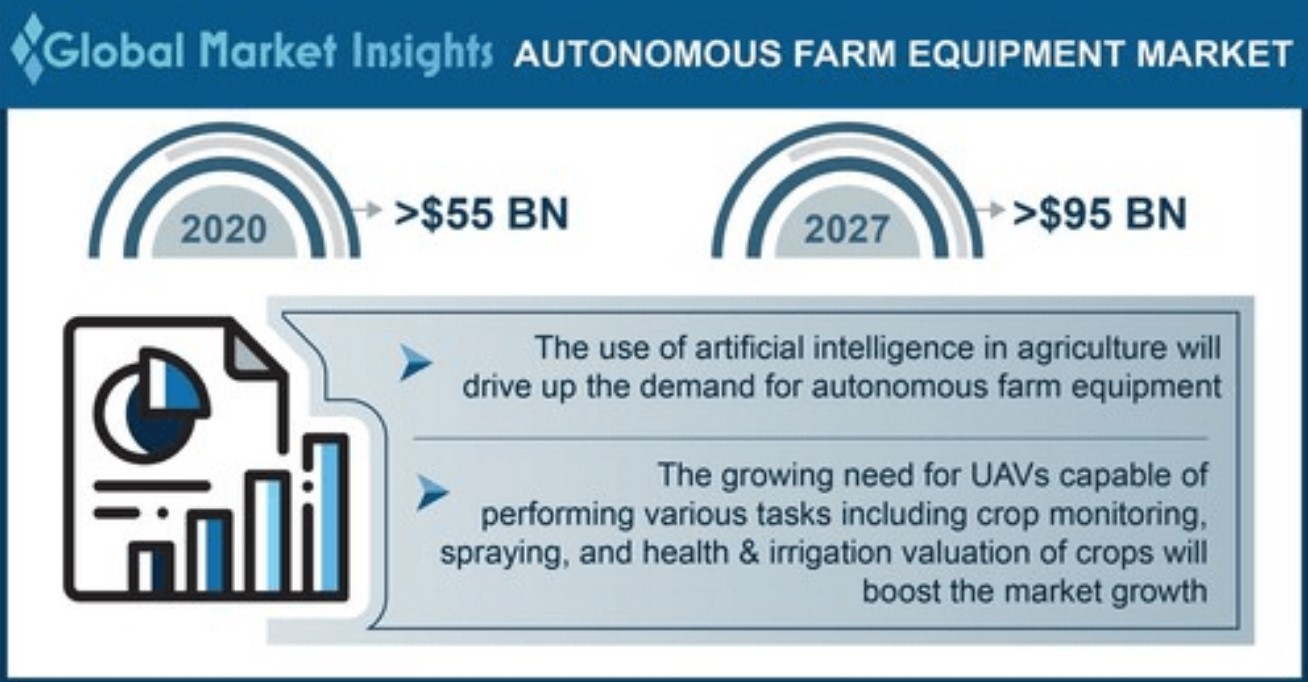 1. Easing farming labour shortages with autonomous tractors
Autonomous trackers are set to revolutionize the agricultural industry by removing the human element and easing labour supply at a time when recruitment in the sector is dwindling.
John Deere launched the first commercially successful steel plough in 1837 and recently revealed its first fully autonomous tractor – the 8R – at the Consumer Electronics (CES) show in Las Vegas.
"Until recently, agriculture has always been about doing more, with more – more horsepower, more inputs, more acres – but the new digital era is changing all of that. In the last decade, it has been about doing more with less, and providing farmers with tools to make informed decisions," says Jahmy Hindman, CTO at John Deere, speaking at CES.
Driverless tractors aim to release the farmers from 8-12-hour days of just driving. They allow farmers to take control via an app on their phone or computer. The farmer can use the app to position a tractor, drive the length of a field, turn around, come back and manoeuvre around obstacles.
2. Supporting sustainable farming with drones
Agricultural drones are helping farmers to increase crop productions and monitor crop growth for maximum outputs.
Farmers are using drone data to extract soil samples to check temperatures, moisture and elevation.
Drone maker DJI offers a flying farming option that provides services such as monitoring and targeted pesticide spraying.
The World Economic Forum's New Vision for Agriculture (NVA) initiative is helping to ensure that the agricultural sector can sustainably nourish a growing world population. The NVA engages with over 650 organizations and has advanced 100 value-chain initiatives to benefit millions of farmers.
3. Improving productivity with seed-planting robots
Seed sowing requires a substantial amount of human effort and is time-consuming, but seed-sowing robots are saving farmers time and money.
The autonomous devices plant seeds in the desired position, taking away the human element usually required.
Farming equipment specialist Fendt is testing small autonomous seed-planting robots the size of a washing machine.
Republished with permission of the World Economic Forum under a Creative Commons license. Read the original article.