Watch: Incredible jumping robot triples world record
The bot could one day bounce across the moon for NASA.
A new jumping robot can soar nearly 100 feet into the air with a single leap — and one day it might use the ability to explore the moon for NASA.
The challenge: Most animals rely on movement to survive — if they can't move fast enough or with enough agility, they might not be able to catch prey or escape predators. As a result, we now share a planet with some remarkable runners, jumpers, and swimmers.
Engineers have long looked to animals for ideas when designing machines that move — the world's fastest soft robot was inspired by cheetahs, while the first flying machine was inspired by pigeons.
The best jumping robots have been based on the biology of frogs, kangaroos, and grasshoppers — but could we possibly build better jumping machines than the ones found in nature?
Engineers have long looked to animals for ideas when designing machines that move.
The idea: UC Santa Barbara researchers set out to answer that question by comparing studies of biological jumpers (animals) and engineered jumpers (robots), and then using what they learned to build the best jumping robot possible.
"There hadn't really been a study that compares and contrasts the two and how their limits are different — whether engineered jumpers are really limited to the same laws that biological jumpers are," said researcher Elliot Hawkes.
What's new? The height an animal can reach jumping is limited by the amount of force its muscles can exert against the ground in a single motion.
Jumping robots, however, can "multiply work" using ratcheted or rotary motors to build up energy before releasing it, the UC Santa Barbara researchers explain in their new paper, published in Nature.
Using that knowledge, they designed a foot-tall robot that looks very little like nature's best jumpers.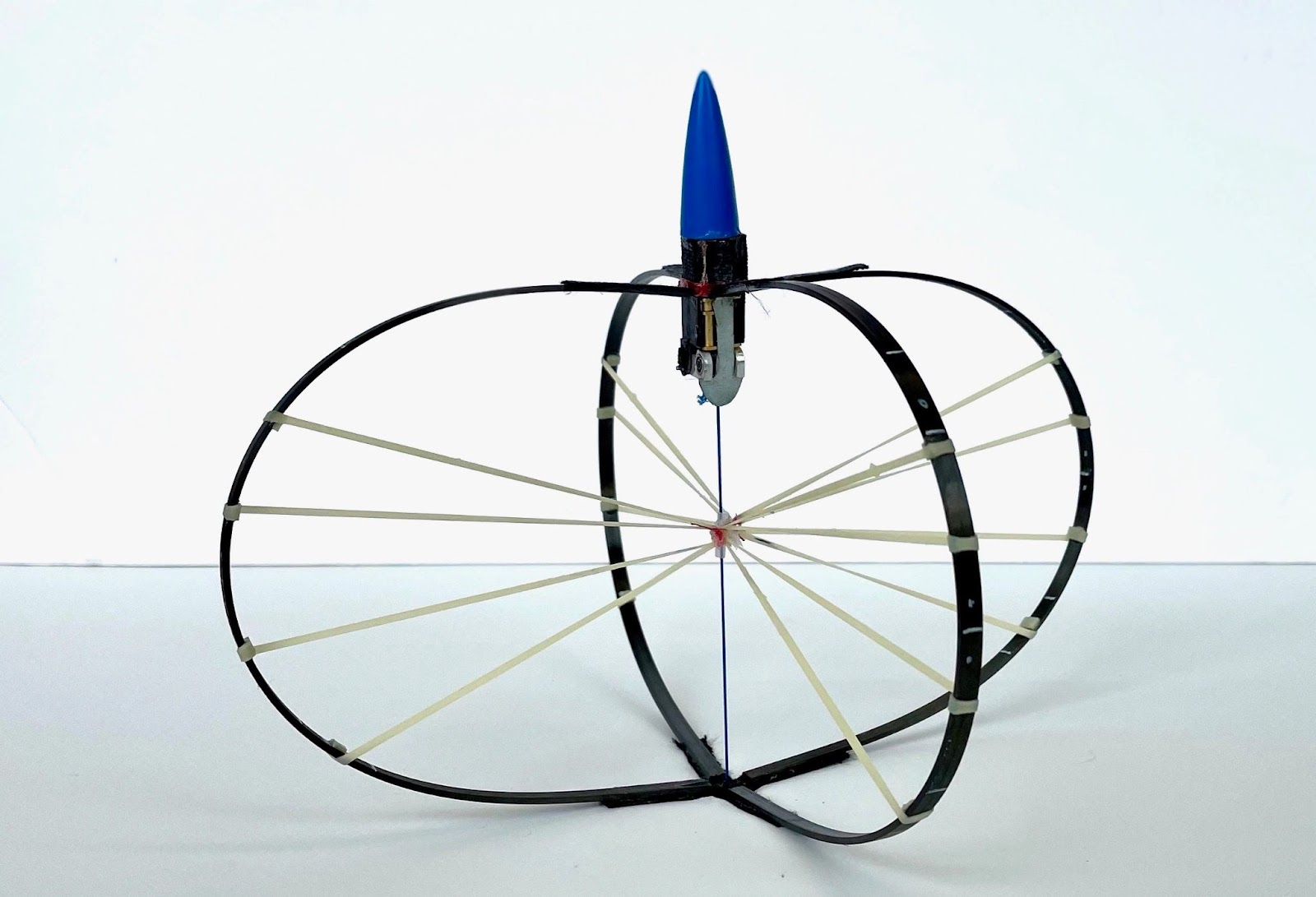 At the top of the robot is a small motor that pulls a string to compress four carbon-fiber bows. When the tension on the string is released, the bows straighten, pushing off the ground and sending the robot flying nearly 100 feet into the air.
That's triple the record height for a jumping robot — and it shows how engineers can benefit by looking beyond nature when developing locomotive systems.
"It is imperative to consider how a given engineered system has similar and different constraints than a model biological system — and design accordingly rather than simply copying a solution found in nature," Hawkes told Scientific American.
Why it matters: We regularly use flying robots, such as drones, for surveillance or search and rescue missions. This jumping robot's ability to reach such incredible heights means it could potentially be a simpler, more efficient option for those same applications.
The robot could also operate in places where traditional flight is hard — or impossible. Hawkes told Scientific American he's currently working with NASA to develop the device for lunar exploration missions.
"On the moon, our device could theoretically jump forward half of a kilometer while going 125 meters high in a single leap," he said. "For instance, it could hop onto the side of an inaccessible cliff or leap into the bottom of a crater, take samples, and return to a wheeled rover."
We'd love to hear from you! If you have a comment about this article or if you have a tip for a future Freethink story, please email us at [email protected].