Innovative vertical farming companies to watch 
The future of farming is looking up — literally.
The future of food security may be built on the backs of today's vertical farming companies.
The UN predicts we'll need to produce 60% more food by 2050 to meet the needs of the growing population. But climate change is not only pressuring crop yields, higher levels of CO2 in the atmosphere may also negatively affect the nutritional value of crops.
At the same time, most high-quality farmland is already being used.
Vertical farming companies hope to solve these problems by using artificial lights and closed water systems to grow food indoors, in vertical towers of stacked trays. This setup doesn't just let them grow more crops on the same amount of land — it also allows them to grow better, more sustainable crops.
Because vertical farming companies can control the lighting, humidity, and temperature indoors, their plants get exactly what they need to thrive, all the time. Crops can be harvested the moment they're ready, and farmers can begin growing new plants at any time of year.
Any water that isn't taken up by a plant's roots can be recycled — no need to worry about losing it to evaporation and runoff. Pesticides or herbicides aren't necessary when plants are grown indoors, either, so there's no concern about them contaminating the environment.
The downside, as you might guess, is cost. It's still much cheaper to grow large quantities of plants outdoors in open fields in the sun than to pay for the buildings, lights, water systems, and heating and air conditioning needed to grow them indoors.
But costs are dropping and interest in vertical farming is increasing — the global market is expected to be worth $19.86 billion by 2026, up from $5.50 billion in 2020.
Here are five vertical farming companies to keep an eye on as the industry grows — and a bonus nine that are selling food you can buy right now.
AeroFarms
What they're doing: AeroFarms is one of the most established vertical farming companies, founded back in 2004.
It already has two commercial farms, and a third is set to open in the second quarter of 2022. CEO David Rosenberg told AgTech that the new facility will be "the largest and most technologically advanced aeroponic indoor vertical farm in the world."
AeroFarm is also building the world's largest vertical farm for research and development in Abu Dhabi, in the UAE. At that facility, expected to open in early 2022, dozens of engineers, horticulturists, and scientists will look for ways to use AI, robotics, and other tech to improve vertical farming.
Get a taste: AeroFarms sells 10 products, including baby arugula and micro broccoli, through Whole Foods, Walmart, and several other retailers. Use their store locator to see if they're carried at a shop near you.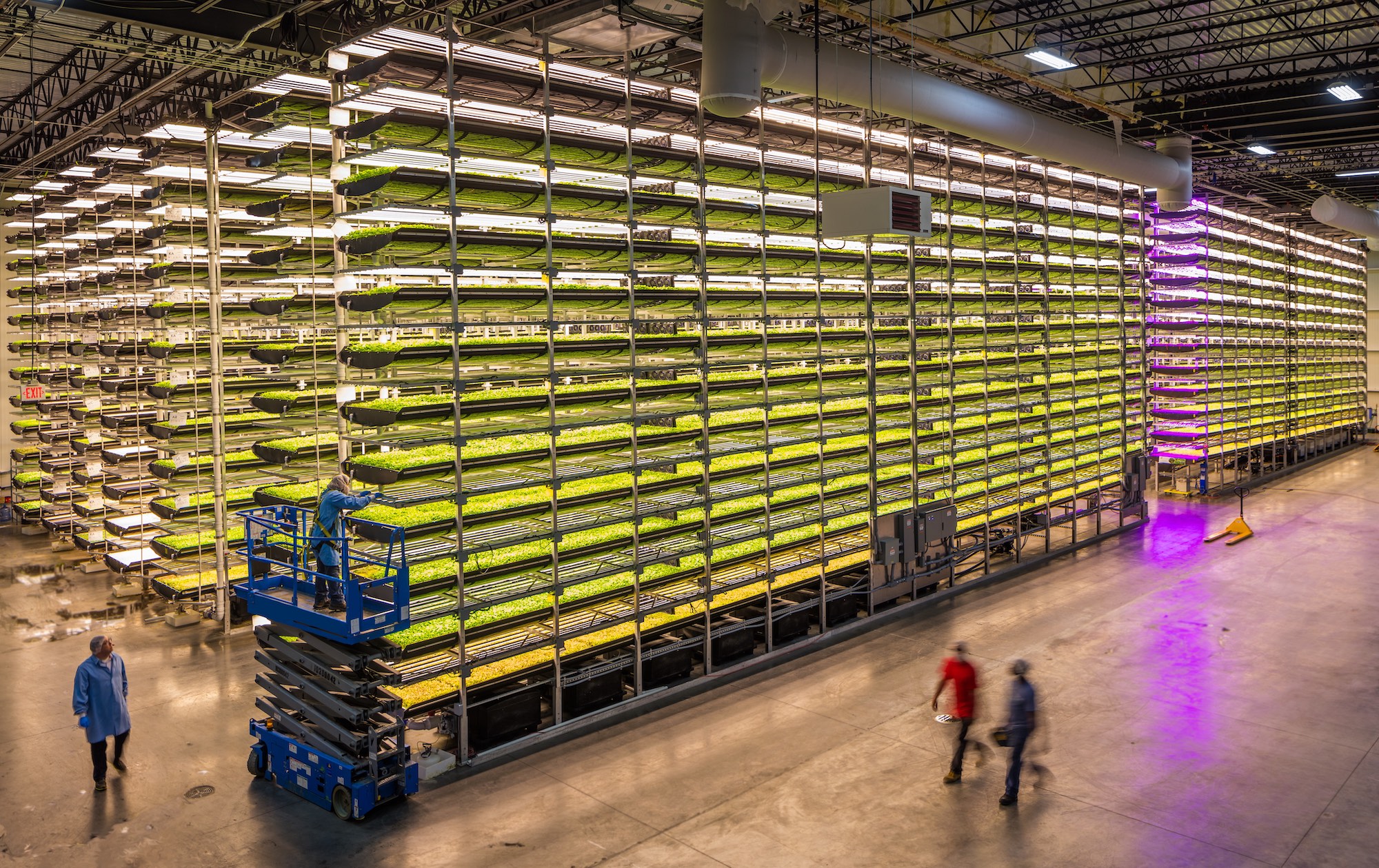 FarmPod
What they're doing: Unlike other vertical farming companies, FarmPod doesn't sell food — it sells actual vertical farms.
The St. Croix-based startup sells a food production system that lets anyone grow more than 100 pounds of fresh produce every week, in an area the size of two parking spots. It comes in a 20-foot-long shipping container, which doubles as the base for the vertical farm.
FarmPod's system combines vertical farming with aquaponics — that's the raising of live fish, shrimp, or other aquatic animals alongside plants. The waste the fish produce can then be used to fertilize the plants. Bonus: you can also eat the seafood.
Get a taste: FarmPod sells its systems to restaurants, schools, and nonprofits, so you might be able to find one in your community — but if you want a steady supply of produce (or fish) grown in a FarmPod, you could consider buying one of your own. But note that startup costs may be high, and you'll need a healthy supply of electricity to run the system.
Fifth Season
What they're doing: While most vertical farming companies lean heavily on technology, Pittsburgh startup Fifth Season takes it to the extreme.
The company — which is staffed by "the nerdiest farmers you'll ever meet" — has automated the entire growing and harvesting process using advanced robotics systems and artificial intelligence.
This allows Fifth Season to produce the same amount of greens as a traditional farm using 97% less land, 95% less water, and less than half the time — all without a single human in the grow room.
The company's second vertical farming facility, which will be three times larger than its first, is being built in Columbus, Ohio, and is expected to be operational in 2023.
Get a taste: If you live in Pittsburgh, Fifth Season will deliver salad kits containing its greens right to your door (sorry, yinzers — they don't come with french fries). Otherwise, use the company's store locator to find them at a grocery store in Pennsylvania, Ohio, or Indiana.
GreenForges
What they're doing: Instead of building a vertical farm from the ground up, GreenForges is developing a system that uses all the same technologies — hydroponics, lighting control, etc. — but in vertical tunnels underground.
This insulates crops against temperature and weather swings, cutting down on heating and cooling costs. It also allows farms to be installed under hotels, apartments, or other types of buildings (assuming they're above the water table).
Once the 50-inch-wide holes are drilled, the equipment and trays of crops are lowered down by a mechanized pulley system. The trays are then pulled to the surface for maintenance and harvesting.
Get a taste: It may be a while before anyone gets a chance to try produce grown in a GreenForges farm — it's one of the youngest vertical farming companies on this list, having been founded in 2019, and will be building its first pilot farm in the spring of 2022.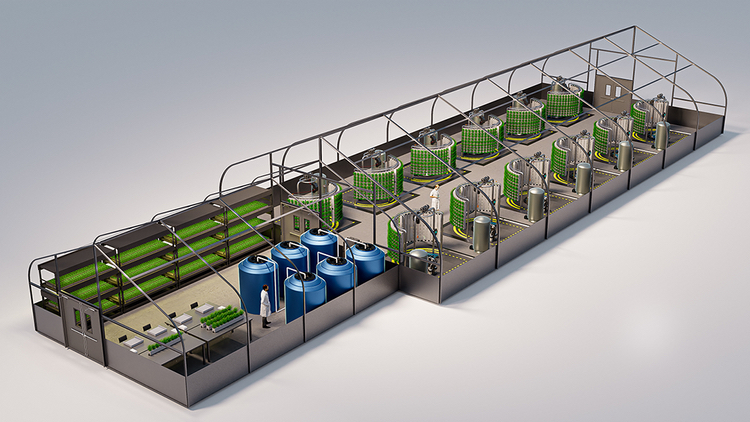 Shockingly Fresh
What they're doing: Scottish startup Shockingly Fresh is taking a hybrid approach to vertical farming, combining the natural light of a greenhouse with vertically stacked plants and water-saving technology.
This means plants are dependent on sunlight and don't grow the same all year round — like they do in a standard vertical farm — but it still allows for more crops to be grown per acre of land and requires much less energy than other vertical farms.
In 2021, the company developed and sold its first commercial site. At three acres, Offenham Vertical Farm is now the largest naturally lit vertical farm in the U.K. and is expected to produce four times the standard yield of leafy greens for that amount of land.​​
Get a taste: If you live in the U.K., you may be able to find lettuce and bok choy from Offenham Vertical Farm at your local supermarket. Produce from Shockingly Fresh farms could be more widely available soon if a 32-acre farm currently in the planning stages comes to fruition.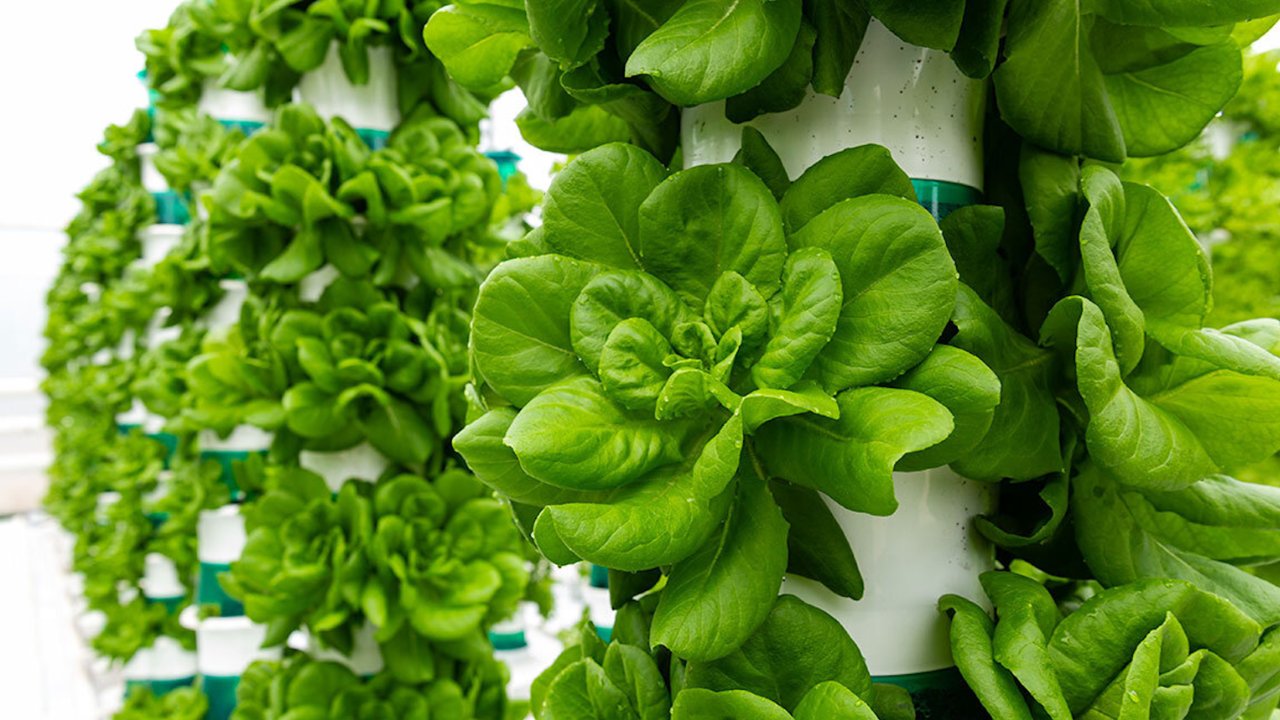 Still hungry?
The vertical farming companies highlighted above are just a fraction of those helping shape this growing industry. Here are nine more with fresh products you can buy right now.
AgriCool: Sells greens and fruit at dozens of locations in France.
Bowery Farming: Sells greens at more than 800 locations in the U.S.
Brightfarms: Sells greens and salad kits at hundreds of locations in the eastern U.S.
Farm.One: Delivers weekly subscription boxes of greens and edible flowers in New York City.
Freshbox Farms: Sells greens at more than 30 locations in Massachusetts.
InFarm: Sells greens and mushrooms at hundreds of locations in North America, Europe, and Asia.
Nordic Harvest: Sells greens at grocery stores in the Netherlands.
Plenty: Sells greens through online retailers and at hundreds of locations in California.
Upward Farms: Sells greens and fish at more than a dozen locations in New York City.
Update, 3/8/22: Another vertical farming company was added to the article.
We'd love to hear from you! If you have a comment about this article or if you have a tip for a future Freethink story, please email us at [email protected].