Austin is facing food insecurity. This student is on a mission to solve that.
The key to reducing food insecurity is through transportation. Good Apple delivers.
When Zack Timmons was in his third year at the Dell Medical School at UT Austin, he began noticing a pattern among the patients he was seeing: many of them struggle with food-related health issues, like obesity, high blood pressure, and diabetes. A lot of these patients rely on food banks to stock their pantry, but this often means they're surviving on less-than-healthy canned and boxed food options.
Austin has nearly 60 food pantries, the most of any city in Texas. The city's food insecurity rate is 16 percent, meaning many people don't know where their next meal will come from.
While food banks are essential to keeping Austin fed, Timmons says it isn't enough just to provide food — ending food insecurity should start with healthy options. The best medicine is fresh fruit and veggies.
For many Austinites, however, that's not an easy prescription to fill: 90% of the population in Austin/Travis County do not live close to a healthy food store. So Timmons, and his friend Gabe Breternitz decided to bring the healthy food directly to those who need it most.
It isn't enough just to provide food — ending food insecurity should start with healthy options.
The duo launched Good Apple last year. In a "buy one, give one" model, Good Apple partners with local farmers to deliver unsold, surplus produce to paying customers on a subscription basis. For every box purchased, they also provide a free box to a central Texas family who is facing food insecurity.
Grace is in one of those families. A lifelong Austin resident, she loves the city and can't imagine living anywhere else. But life is challenging. She lives alone and doesn't own a car. She visits her mother weekly to help with day-to-day needs and earns a little extra money babysitting her granddaughter. Putting food on the table is tough — now, she relies on Good Apple to help her do that.
"It keeps me full and I thank God for it every time I get a round of food. I'm just grateful," she says, adding that she even tried a few new foods like kale and black beans.
But, organic produce often comes with a higher price tag.
"You are trying to figure out how to balance helping people in the right way and helping more people," says Timmons. "We've really taken the thought that; if we're going to help people, we're going to give them the same thing that we would give to our paying customers — the exact same local or organic produce that's grown on a local farm, ten minutes down the road."
The Roadblocks in Austin Run Deep
While developing Good Apple, Timmons talked with people who depend on these food pantries and found a common thread: many can't regularly get there because of lack of transportation. And — at that time — federal supplemental food programs, like SNAP, didn't offer online ordering or delivery (although the pandemic has prompted that to change).
In a city long plagued by segregation, the rising cost of housing and gentrification are pushing lower-income residents further away from public transportation lines and into areas where essential services are sparser.
Catherine Cubbin, a social work professor at UT Austin who does not work with Good Apple, says I-35 literally divides the city into two parts. On one side, there is excellent access to economic opportunity, quality education, and grocery stores. The other side, east of I-35, does not. There are 77 healthy food stores on west of I-35 compared to 22 on the East side.
This clear racial and economic divide came about from segregationist policies in the 1920s and '30s, which forced Black schools and services into the eastern district, where "redlining" subsequently denied access to investment and home loans.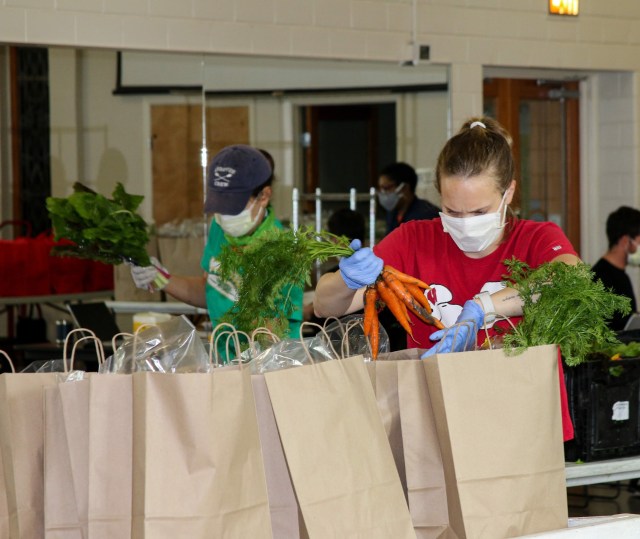 The effects of these policies are still seen today — income segregation in Austin rivals that of any other metro area — and Cubbin says that this environment is instrumental in creating the high rates of food insecurity.
That is why Timmons decided to focus on food delivery. With Good Apple, they built partnerships with Cap Metro, Austin's public transit system, the City of Austin, and various food pantries. They supplement what food pantries already provide with fresh produce from local farms, and safe delivery via the transit system, right to the doorstep of families in need.
Good Apple Delivers
Before the pandemic took hold in March, Good Apple was doing about 50-100 deliveries per week. Just a few weeks later, that went up to 1,200 per week, with so many people out of work and staying home many are using food pantries now for the first time in their lives.
A lot of communities across the United States probably have the community assets they need to put together a very similar program.


Zack Timmons
Ana Drepaul is the diaper program coordinator for the food pantry, Welcome Table. She saw the need for their services soar when the pandemic set in. The organization plans community get-togethers where families could socialize and enjoy snacks, all while getting a healthcare check-up, a supply of food, and other essentials.
Drepaul says the organization had to adapt how they served families when the pandemic struck. So, they partnered with Good Apple to continue to provide food to families in need, even during the lockdowns, with Good Apple's door-to-door delivery program. Before March, they were serving 120 households at each bi-monthly gathering, but now they serve seven times as many through the delivery service.
"It has encouraged a lot of neighbors to try to use produce that they were not used to before," says Drepaul.
"The fact that they receive fresh vegetables has improved not just their health but the health of the kids that they have at home."
Timmons describes creating Good Apple as a lesson in "the power of food delivery." Because they have only been operating for a year, they haven't measured any community benefit yet, but a healthy diet has been proven to lead to a longer life and a lower risk of health complications.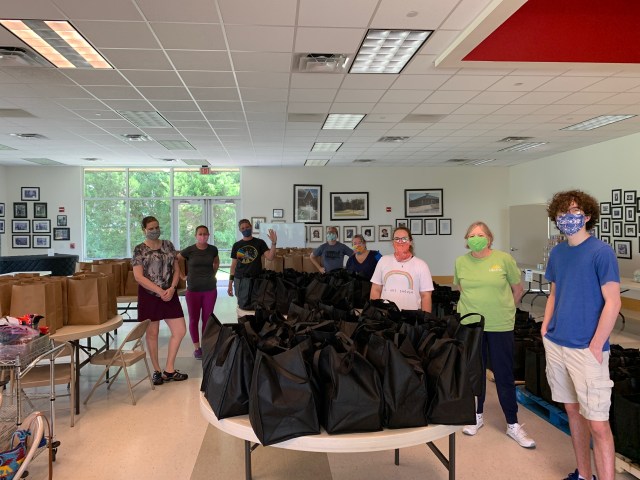 "(Good Apple) is a reflection of possibilities. I don't think Good Apple is going to solve all food deserts everywhere. We're starting along a path of an idea that could create sustainability," he says, adding that partnering with existing food pantries and public transportation was key to making it all happen.
"A lot of communities across the United States probably have the community assets they need to put together a very similar program. That's exciting. You don't need to do it all on your own."
We'd love to hear from you! If you have a comment about this article or if you have a tip for a future Freethink story, please email us at [email protected].