Mercedes-Benz wins race to bring Level 3 autonomous cars to US
Drivers are allowed to watch movies or browse the web when DRIVE PILOT takes over.
Mercedes-Benz has received permission to deploy its autonomous driving system DRIVE PILOT in Nevada. This makes it the first automaker with a Level 3 system approved for use anywhere in the US — but others are coming down the pike.
Levels to it: Autonomous vehicles are generally classified according to a standard set by the Society of Automobile Engineers (SAE) in 2014. This standard includes 6 levels of autonomy — a Level 0 car has no autonomous systems, while a Level 5 car is fully autonomous.
A few companies, such as Waymo and Cruise, now operate ride-hailing services with vehicles capable of Level 4 autonomy in the US — that means the cars can operate without a driver behind the wheel under certain conditions, such as within a designated service area.
The highest level of autonomy currently available to private drivers, however, is Level 2. These vehicles can accelerate, brake, and steer by themselves in specific scenarios, such as on highways, but a driver must be behind the wheel with their eyes on the road at all times.
What's new? That's all about to change: the Nevada Department of Motor Vehicles has given Mercedes permission to deploy a Level 3 autonomous driving system called DRIVE PILOT in vehicles on state roads.
"Mercedes has certified that their technology meets the Nevada 'minimal risk condition' requirement that requires a Level 3 or higher 'fully autonomous' vehicles to be able to stop if there is a malfunction in the system," the Nevada DMV told Reuters.
The details: A driver is still required behind the wheel when DRIVE PILOT is engaged, but under specific conditions — highway driving where traffic density is high and the vehicle is traveling at speeds below 37 mph — that driver doesn't have to keep their eyes on the road.
This is what sets Level 3 apart from Level 2 — the driver must now be able to take over from the system, if needed, but they no longer need to remain fully attentive while it's engaged.
"This gives customers back time so they can focus on certain secondary activities, such as communicating with colleagues via In-Car Office, browsing the web, or relaxing while watching a movie," writes Mercedes-Benz.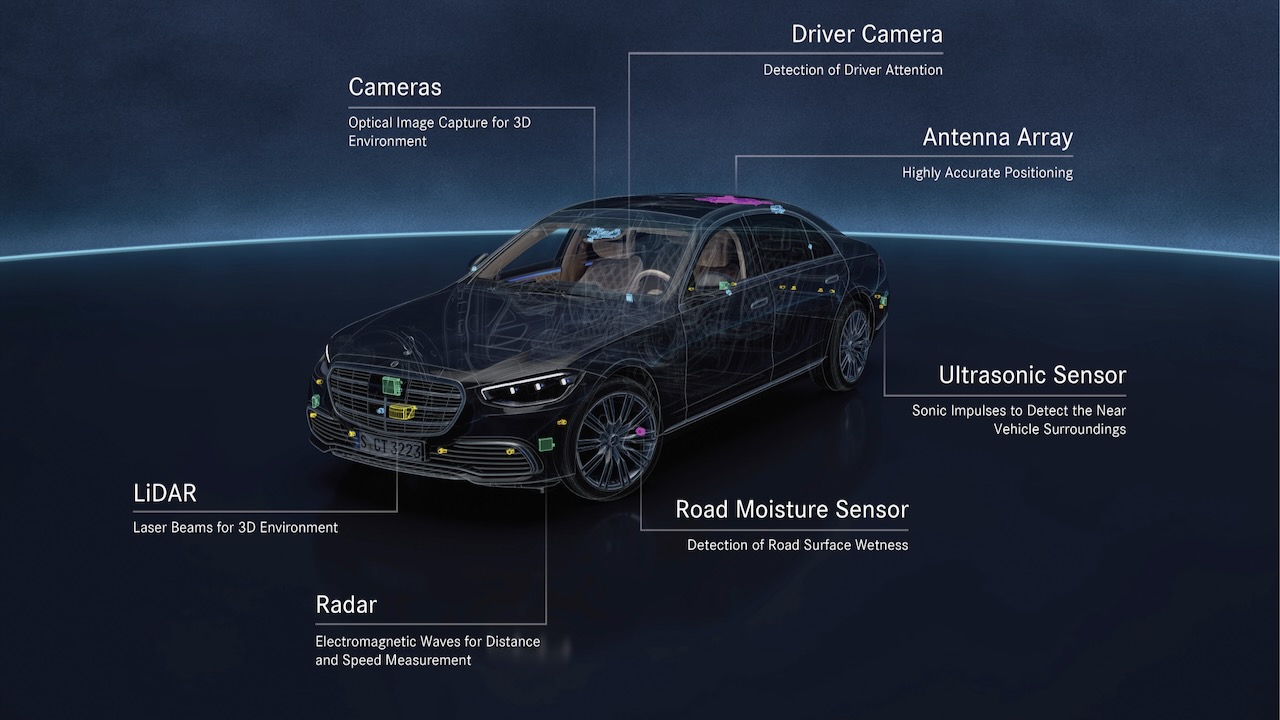 Big spender: DRIVE PILOT requires the installation of specific hardware and cannot be retrofitted to existing cars, so anyone interested in using the service in Nevada will need to be prepared to buy a new vehicle and pony up for the option.
Mercedes-Benz hasn't announced what it plans to charged for DRIVE PILOT in the US, but it started offering it to buyers of its S-Class and EQS models in Germany in 2022 for $5,265 and $7,823, respectively — and that's on top of the $2,559 that they have to pay for the Mercedes Driving Assistance Package.
Of course, those vehicles have a base price in the six figures, so owners might not balk at spending an extra $10,000 on their new Mercedes if it gives them the ability to disengage during their rush-hour commutes.
A Level 3-capable system could be available in cars priced as low as $50,000 before the end of 2023.
Looking ahead: Mercedes-Benz said it applied for certification for DRIVE PILOT in California at the same time it submitted its Nevada application, so it's possible approval for that state could be just on the horizon.
Drivers eager for cheaper autonomous vehicles, meanwhile, could soon have options — Kia and Genesis plan to deploy a Level 3-capable system called "Highway Driving Pilot" (HDP) in models priced as low as $50,000 before the end of 2023.
Those automakers will need to work with individual states to get HDP approved for use, but now that Mercedes has gotten DRIVE PILOT cleared in one state, it might be easier for other car companies to level up.
We'd love to hear from you! If you have a comment about this article or if you have a tip for a future Freethink story, please email us at [email protected].