Astronomers detect "mystery molecule" in exoplanet's atmosphere
The process used to make it has never been witnessed in planets outside our solar system.
The James Webb Space Telescope has allowed astronomers to study the atmosphere of a distant gas giant exoplanet with greater precision than ever before, leading to the discovery of three firsts in astronomy.
"We had predicted what [the telescope] would show us, but it was more precise, more diverse, and more beautiful than I actually believed it would be," said Hannah Wakeford, a researcher working with the Webb data at the University of Bristol.
The transit method: Exoplanets orbit stars other than our sun, and one way astronomers discover them is by looking for regular dips in the brightness of stars — these dips indicate that an orbiting exoplanet is passing in front of the star.
And, because different types of molecules block different wavelengths of light, by looking at which wavelengths are missing when an exoplanet transits past its star, astronomers can also determine which types of molecules are present in its atmosphere.
"It was more precise, more diverse, and more beautiful than I actually believed it would be."

Hannah Wakeford
The exoplanet: In 2011, researchers used the transit technique to discover WASP-39b, a gas giant about 700 light years away.
The exoplanet is only 4.3 million miles away from its star — Earth is 91.7 million miles away from the sun, for comparison — and it completes an orbit around its host once every four Earth days. Follow up observations in 2018 yielded signs of water vapor in its atmosphere.
In July 2022, astronomers trained the newly operational Webb telescope on the exoplanet, recording four transits past its star using three different instruments. Five papers with new insights into its atmosphere have now been published online (two are still undergoing peer-review).
"We see a panoply of atoms and molecules in the atmosphere of WASP-39b, including sodium, potassium, water, carbon dioxide, carbon monoxide, and the mystery molecule, sulfur dioxide," said Natalie Batalha, a researcher working with the Webb data at UC Santa Cruz.
"This is the first time we see concrete evidence of photochemistry … on exoplanets."

Shang-Min Tsai
Solar power: Sulfur dioxide was a "mystery molecule" because, when researchers first looked at the Webb data, they saw something they didn't expect, and it wasn't until later that they were able to attribute the strangeness to sulfur dioxide.
This marks the first discovery of sulfur dioxide in the atmosphere of any exoplanet, and its presence suggests that the light from WASP-39b's star is triggering chemical reactions in its atmosphere — the process is similar to the one that creates Earth's ozone layer.
"This is the first time we see concrete evidence of photochemistry — chemical reactions initiated by energetic stellar light — on exoplanets," said Shang-Min Tsai, a researcher working with the Webb data at the University of Oxford.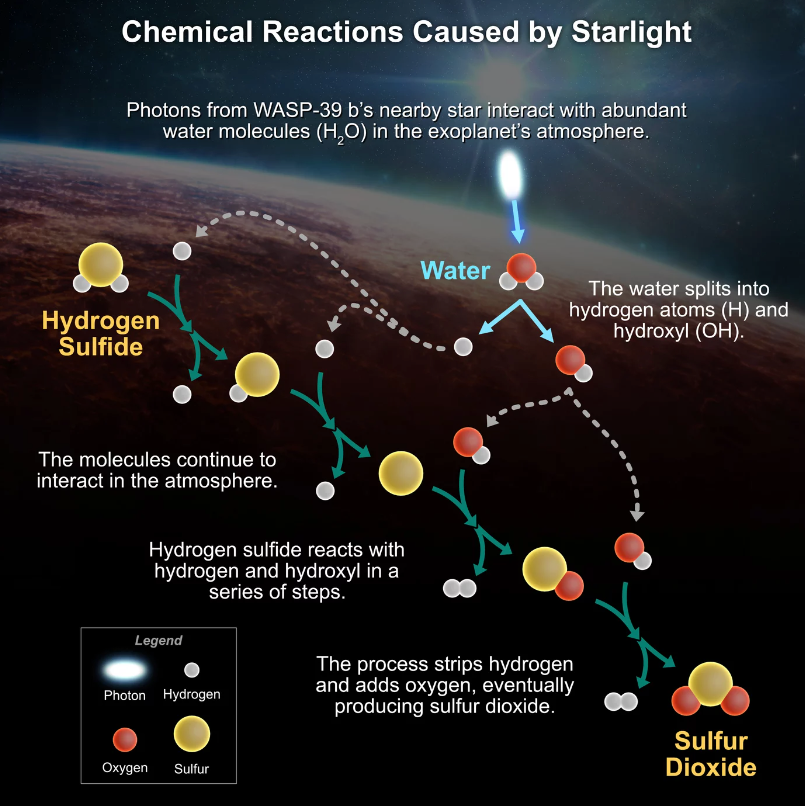 Clouds and chemicals: In addition to looking at which molecules are present in WASP-39b's atmosphere, researchers also examined their amounts in relation to one another, which yielded even more insights into the distant gas giant.
The amount of sulfur relative to hydrogen, for example, suggests that WASP-39b formed from the merger of many smaller bodies, each bringing its own ingredients to the atmosphere, according to Kazumasa Ohno, a researcher at UC Santa Cruz.
"The data also indicates that the oxygen is a lot more abundant than the carbon in the atmosphere," said Ohno. "This potentially indicates that WASP-39b originally formed far away from the central star."
The Webb observations also suggest that the clouds above the gas giant, which are made of sulfides, silicates, and similar substances, are likely broken up rather than in a uniform blanket — that's yet another thing astronomers have never observed on an exoplanet before.
Looking ahead: Webb just launched in December 2021, and by the time it completes its first year of scientific observations in July 2023, it's expected to image approximately 70 exoplanets.
Given all the remarkable discoveries that have come out of imaging just one exoplanet, those future observations will undoubtedly reshape our understanding of the universe.
"We are going to be able to see the big picture of exoplanet atmospheres," said Laura Flagg, a researcher at Cornell University. "It is incredibly exciting to know that everything is going to be rewritten. That is one of the best parts of being a scientist."
Editor's Note, 11/30/22, 6:15 p.m. EST: This article was updated to correct WASP-39b's distance from Earth.
We'd love to hear from you! If you have a comment about this article or if you have a tip for a future Freethink story, please email us at [email protected].